The aesthetic elements and ideas developed in Saint Laurent's latest collections are taken up and reinterpreted in the Men's Summer 24 collection. The interplay of fusion between aspects considered related to masculine and feminine aesthetics, a representation of sensuality and fluidity combined with rigor. The thoughtful and direct approach investigates a confident and sophisticated masculinity, an innovative elegance that becomes a reconfiguration of the full conception of menswear. The latest women's collection clearly echoes under new interpretative keys, telling the thin line that connects the feminine and masculine universe within the French maison's wardrobe, and letting its incredible versatility emerge. "I started to build the collection around the shape of the women's now being worn by men", reveals creative director Anthony Vaccarello.
Masculine and feminine, modern and sophisticated, elegant and essential. The style codes are closer and closer to sensual and feminine references. The silhouette is sharp, from the fit that in general is slight and lean we go to the width of the upper part, to the large volumes of the shoulders, up to high-waisted flute pants. The described elements accompany the défilé with soft, unconstrained movement. The whole collection is cleansed of any kind of glitz or forcing, draperies create games of volumes, transparencies reveal and envelop bodies. The current character is found in the essential colors of the proposals, white, black and hints of burgundy and earth tones. The harmony of materials taken from the world of couture varies from satin to chiffon, passing through muslin: light and fluffy choices combined with leopard and polka dot patterns. One-shoulder tops, wrapped shirts or with bow-tie necklines, and tank tops with fine straps make up the Saint Laurent tuxedos, everything that on the surface seems classic turns out to be a visionary analysis of aesthetics.
"When you leave the show, I want you to have the silhouette clearly in your head."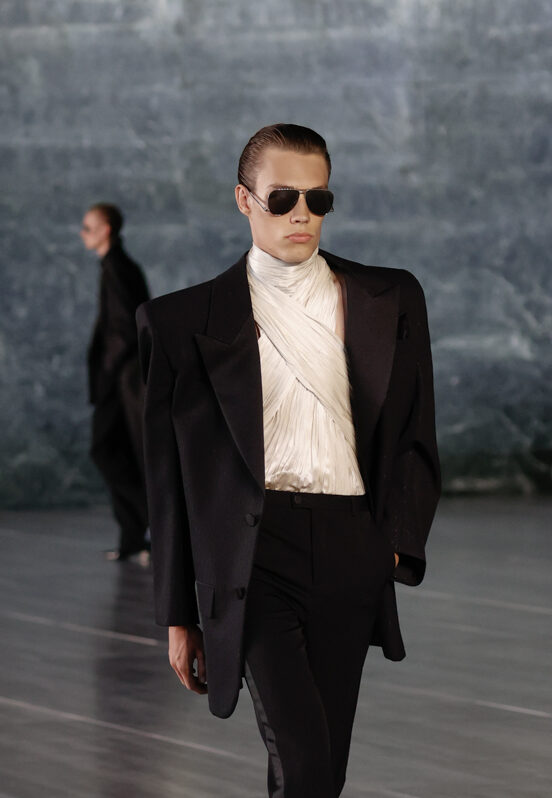 Saint Laurent together with creative director Anthony Vaccarello decides to present the new collection in an exclusive location, a modernist masterpiece resulting from the last project of Ludwig Mies van der Rohe, the Neue Nationalgalerie in Berlin. A true temple of art finished in glass and steel, an emblem of essential classicism that represents the modernity of today as well as the novelty brought by 1968, with its inauguration. Vaccarello's continuous re-imagination of the essential and representative themes of the maison blends entirely appropriately with the iconic structure that envelops the show. An attitude, the one presented by the designer, that is easily adapted to contemporary life. This venue thus represents just the latest step in an ever-evolving artistic-creative trajectory that carries forward the values of the French brand with great care and wise reflection.
"To start somewhere very classic, and then play with the codes of masculinity."