Since 1898, RIMOWA has been focusing on quality and innovation for all functional tools for a lifetime travelling. It was the first to introduce aluminium into the production of its suitcases, an idea that revolutionised the industry and gave rise to the iconic grooved aluminium design that was later transformed into the first polycarbonate suitcase in 2000. The German Maison seems to want to chart new horizons, often explaining the future of luxury through its own creations or by teaming up with visionary partners. This is the case with the new capsule collection to be released on September 26th with the luxury brand Tiffany & Co., a leader in jewellery and silverware. The two brands that are pioneers in their respective fields come together to rethink luxury in the world of travel by presenting a new Jewellery Case, a Rock Cut Cabin suitcase and a Jewelry Personal case. Both the suitcase and the Jewely Case have a grooved aluminium surface reminiscent of diamond facets, while in the Jewelry Personal, RIMOWA's characteristic polycarbonate is tinged completely in Tiffany Blue, with six compartments on the outside and inside for storing your most precious items while travelling. The outside of the case features Rimowa and Tiffany & Co. logos in the centre, engraved between two Tiffany Blue leather straps. Made in Germany using a brushed aluminium technique, the distinctive design of the Rock Cut recalls the famous jewellery house and its emblematic 'T' motif. Both models feature profiles, handles and, in the case of the suitcase, wheels in the iconic blue.
"We are proud to join forces with Tiffany & Co., another legendary brand with the finest craftsmanship. The creation of such purposeful and one-of-kind pieces represents the centuries of expertise behind both brands and the mastery of engineering that we bring to the table."
The Rock Cut Cabin on the other hand, features a new look: handles, label and wheels with leather details symbolising the logos of the two brands. The new jewellery box is a precious treasure chest to be carried pleasantly when travelling due to its easy opening. The traveller will first find a large mirror with a silver plaque underneath that can be engraved and personalised as desired. Next, the jewellery case opens into five compartments for storing rings and other jewels. The central tray is designed to hold necklaces and bracelets, while the lower tray has three large spaces to store more delicate pieces.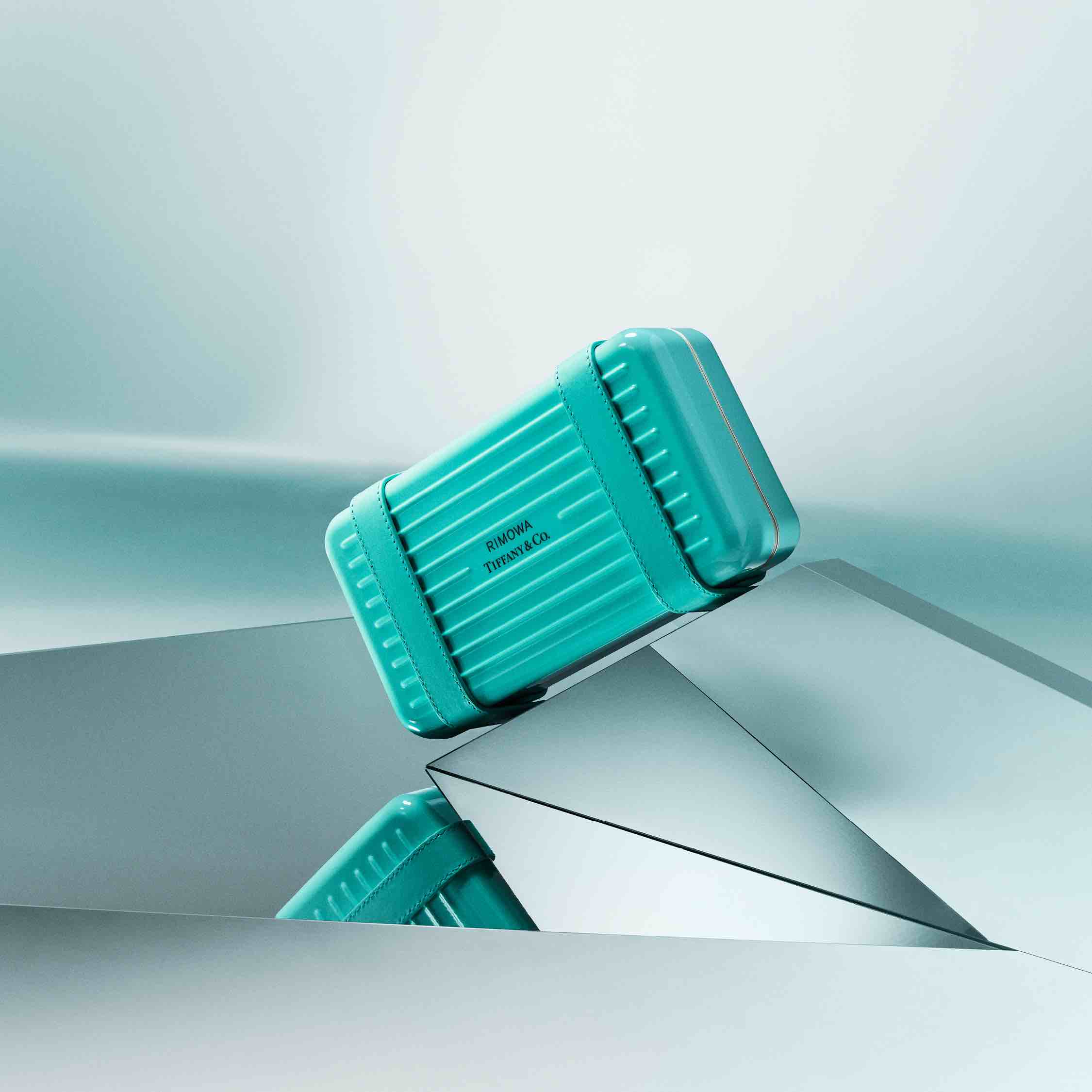 The dialogue between the two LVMH brands seems to be open and evolving towards the common desire to continue the tradition of innovation and luxury that has always characterised the two, with the intention of bringing craftsmanship and luxury, jewellery and fashion, ever closer together. A sentiment echoed in the words of Alexandre Arnault, Executive Vice President of Product and Communications at Tiffany & Co., who sees this collaboration as a unification of two icons, both profoundly unique and exemplary in their craftsmanship.