The opening look tells and encapsulates Miuccia Prada's intense reflection on current events, in a layering of ordinary garments carrying complexity, worn by the brand's muse Esther McGregor. The creative director explains that fashion has a use and a purpose, both concrete, to dress the body, and to express a broader feeling, a universal, shared emotion. Thus, the collection appears to be concrete, immediate, but at the same time profound.
The new utilitarian maxi pockets expressing practicality are everywhere, declined in various fabrics, applied to different pieces, contrasting with the increasingly mini crop tops. Complexity is expressed through the layering of cotton, silk and cashmere in muted, neutral colors, or tricot nylon in brighter shades.
The now already iconic Miu Miu Set, crop top and mini skirt, is repurposed in different versions, as in the case of a band with a plastic clip-on buckle, which seems to come straight from technical performance wear. Still in line with the two previous seasons, with the impeccable styling by Lotta Volkova, classic garments such as tailored jackets, coats, shirts, sweaters re-emerge; on this occasion through different processing, realizations in leather or washed, worn denim, which disrupt their reality.
The brand's key pieces follow one another between transparencies, overlapping layers, embroidery and color, raw cuts, miniskirts, leather, where the surface is animated through graphic bands of undergarments and sandals (high and low) that reveal the skin; decoration as a form of non-ostentation, all expressed with new softness. Among the bags, the Miu Wander returns, alternating with classic leather mini bags and maxi pouches to carry under the arm.
Miuccia Prada continues to include some looks for men in her collections, through a cast of heterogeneous genders, defying convention and embracing our new reality.
And in collaboration with artist Shuang Li, the hypostyle of the Palais d'Iéna is transformed by AMO into an unknown dimension of reality, a representation of underwater electronic structures. The background of the show is a sound carpet created by musician Eli Osheyack; conceived as a sequence of lost messages, communicated undelivered and therefore never heard.
"As long as I live I want to be like this, working for the good."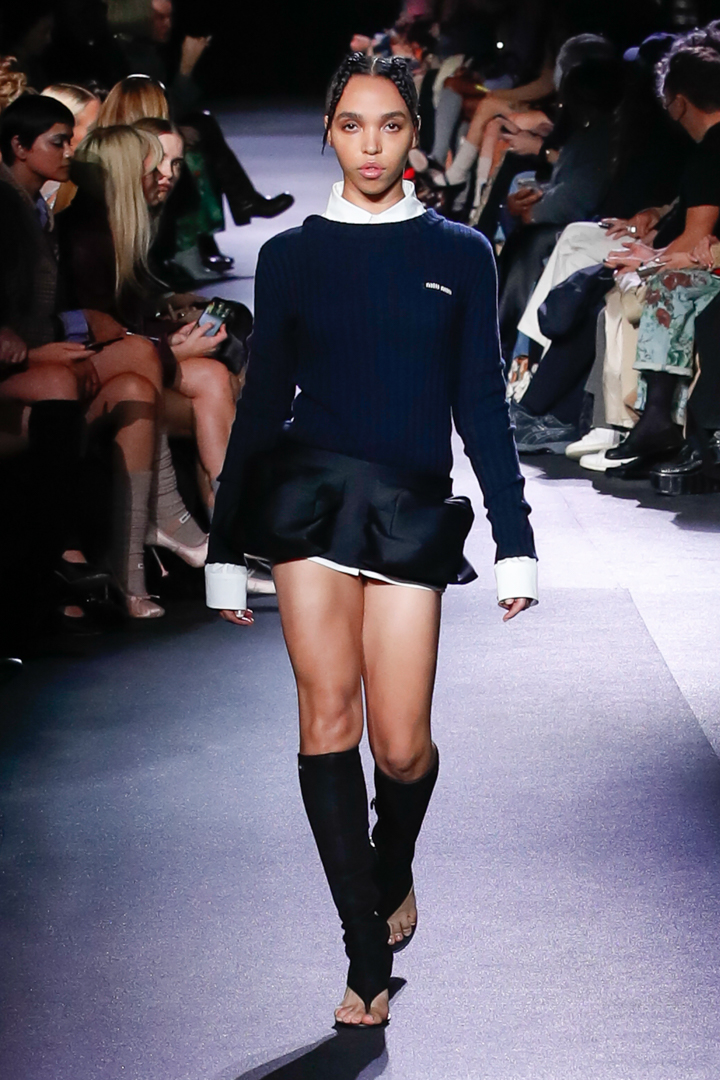 Closing the show was singer FKA Twigs, other muses included Ísadóra Barney, Lindsey Wixson, Ethel Cain, Miranda July, Sibyl Buck, Emily Ratajkowski, and Bella Hadid.
In an interesting press note, Miu Miu added that the materials used for the fashion show set-up will find new life after the event thanks to the support of La Réserve des arts: a nonprofit association that supports the cultural and creative sector in the development of the circular and solidarity economy, offering services for the collection, recovery and recirculation of all kinds of materials from the various creative activities of the cultural sector.
"I'm very serious but also fun. I am both."