The 20th edition of Frieze London took place in Regent's Park and through the selection of Angelina Volk, Piotr Drewko and Cédric Fauq, 34 galleries from 18 different countries and little-known new institutions were introduced. Frieze is a fair that differs from all others because over time it has demonstrated its uniqueness in being a platform for emerging artists, with a strong desire to "debut" new generations, cultures and continents. The famous Frieze week is an event that transforms the city of London into a rich hub of energy and node of exciting new developments for the art scene.
GAGOSIAN – The Secret Gardens Paintings, Damien Hirst
"I love gardens, the way they make time stand still and you can lose yourself in them, but I love them even more when they run wild and develop a mind of their own," is how Damien Hirst in a few words rappresented his new series The Secret Gardens Paintings, presented for the first time by Gagosian London this October 2023. The artist depicts flourishing gardens in which different species of brightly coloured flowers emerge from the verdant environment. Harmonious yet chaotic, he renders details of blooms, shrubs and ponds embedded in the indistinct landscapes before finally adding an abstract layer to each canvas by flinging a paint-loaded brush across the surface. The series takes the form of a dynamic network of bright splashes that Hirst described as "a pollen, or something that feels like an assault on the senses". We have never seen such a happy and colourful Hirst, even though this new series continues the artist's long-standing reflection on the concept of death. It presents flowers, in fact, as a subject that has spanned the entire history of art and appeared in the memento mori compositions of the Dutch Golden Age, as a representation of the fleeting beauty of life. Here they become the tools of impressionist painters to express personal emotions and visual icons that can be continuously adapted in contemporary practice. The Secret Gardens Paintings is an artist's anti manifesto that resembles the hope and futility we have when we try to control nature.
For further information gagosian.com
SADIE COLES HQ – Grandma's Land, Alvaro Barrington
Sadie Coles HQ presents Grandma's Land, a solo exhibition by Alvaro Barrington. Born in Venezuela to migrant workers from Granada and Haiti Barrington grew up with a network of relatives in the Caribbean, Brooklyn and New York. An unwavering commitment to his practice is his inclusive approach – he is an artist who embraces non-traditional materials and techniques such as canvas, cement, cardboard and sewing – always steeped in references to his personal and cultural history. The exhibition at Sadie Coles HQ is a game of remembering his personal history, a fragile balance of narratives that have been woven together over the years, constantly shifting according to the artist's needs. Thus, in order to dig deep into his memory, the artist centres the work in Grandma's Land on a familiar and intimate territory to be reconstructed sentimentally and physically. Three shacks ("my grandmother, my aunt and my uncle") in the countryside of the small village where Alvaro Barrington grew up are the visual landscape in which we are called upon to discover his artistic practice.
For further information sadiecoles.com
GOLDSMITHS CCA – Karrabing Film Collective
The Goldsmiths CCA presents an exhibition of films by the Karrabing Film Collective, an indigenous art group of about 30 members living in the Belyuen community in Australia's Northern Territory. The exhibition includes existing works and a new film, Night Fishing with Ancestors (2023), which will be shown for the first time in the UK. Linking the four films in the exhibition is the concept of theft. Goldsmiths is proposing a broader reflection in this exhibition: the specificity of Karrabing's experience reasons about the broader global population under climate emergency, sustained by extractive capitalism and colonialism. The Karrabing are an interesting collective that uses filmmaking as a counter-practice to explore suppressed and partially erased shared histories, to create relationships within the group, to reconnect with the land and, through the international art world, to attract funding and support access to their land.
For further information goldsmiths.art
WHITECHAPEL GALLERY – What Happened, Nicole Eisenman
This autumn Whitechapel Gallery presents the first major UK retrospective of artist Nicole Eisenman – born 1965 in France, lives and works in the United States. What Happened, on view until January 2024, brings together over 100 works from three decades of the artist's career, many of which have not previously been exhibited in the UK. Comprising large-scale monumental paintings alongside sculptures, monographs, animations and drawings, the exhibition highlights the extraordinary range and formal inventiveness that characterises his practice. Topics include the politics of gender, identity and sexuality, recent civil and governmental turmoil in the United States, protest and activism, and the impact of technology on personal relationships and romantic lives. Works such as Untitled (Lesbian Recruitment Booth) (1992) and Captured Pirates on the Island of Lesbos (1992) combine eroticism with humour and wittily challenge conventional ideas about gender, questioning patriarchal power structures. It is the first time that these works are represented all together in a chronological review divided into eight sections. After the first self-referential phase, Eisenman's work underwent a marked shift to explore themes of broader relevance. He created a series of large-scale paintings in response to a tumultuous period in the late 2000s that included the global recession, the war in Iraq, and the re-election of George W. Bush.
For further information whitechapelgallery.org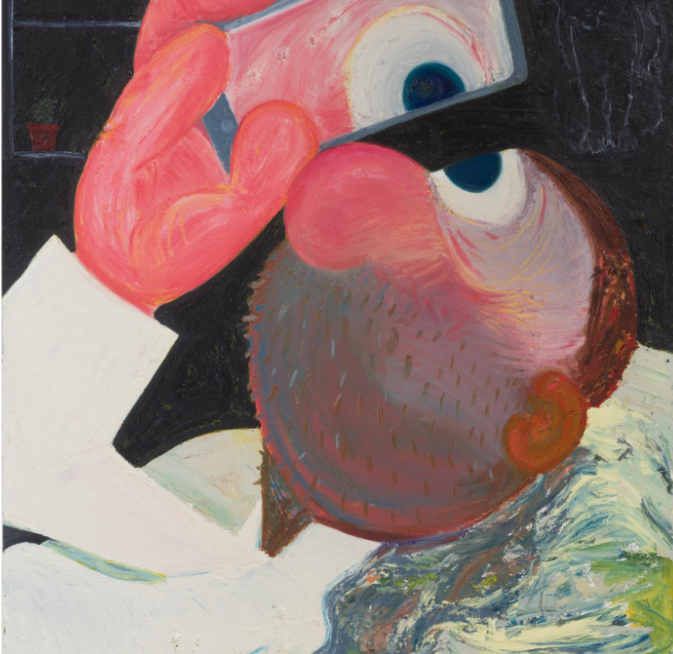 SADIE COLES HQ – Flea Circus, Urs Fisher
For this exhibition in London, Urs Fischer presents experiments in a very different register than usual. The new body of work makes its way into a low-fi darkroom in his studio, where small paintings are coated layer upon layer with photographic emulsions that alter the image with unpredictability for both artist and viewer. The photographs are familiar snapshots that are transformed into unexpected hybrids reminiscent of the ghostly spiritual apparitions of Victorian photography. Faces are pulled out of the ether to offer hazy memories of looped family relationships, similar to the ones each person has, characterised by the analogue qualities that emphasise the imperfect sense of the document against real memory. In all his work, be it sculpture, installation or painting, Fischer interrupts the usual form of the image to engage and surprise.
For further information sadiecoles.com
GAGOSIAN – Early Works
The Early Works exhibition, curated by Elena Geuna, opens the Gagosian Open series of off-site projects and will be open daily from 6 to 22 October 2023. Open is a new programme of ambitious temporary projects located beyond the gallery walls that allows the public to experience artworks in unusual contexts. For the presentation of the series, Christo's first works will be placed in dialogue with a Grade II listed Georgian house in London's East End. These sculptural works, which anticipate the artist's large-scale temporary public projects, feature everyday objects veiled in fabric or plastic and bound with rope or string. The artist's large-scale public works present a sensibility, which even at this formative stage of his career, responded creatively to domestic and urban environments. Attracted by overlooked details, he obscured and concealed them, making them to all intents and purposes familiar landscapes. The duo of Christo and Jeanne-Claude, husband and wife as well as artistic collaborators, effectively redefined the relationship between art and public space, entering but also sabotaging the scene of the Land Art movement.
For further information gagosian.com
CAMDEN ART CENTRE – Green in the Grooves, Tamara Henderson 
Focusing on the ecology of earthworms, Green in the Grooves draws our attention to the often unappreciated earth that lies beneath our feet and forms the foundation of life on this planet. By drawing attention to the cyclical processes of the environment, Tamara Henderson's project reveals humanity's intervention in global patterns of decomposition, regeneration and metamorphosis, and how these human interactions can accelerate and destabilise the delicate balance needed to sustain terrestrial life as we know it. In an age saturated by the digital, Henderson's work takes us back to the material – to the analogue and the handmade, to process and experimentation – resulting in a distinctive artistic language and animistic worldview that explores how we are involved in broader cosmologies and how we relate to the planet and the universe.
For further information camdenartcentre.org
SERPENTINE – Georg Baselitz: Sculptures 2011-2015
Georg Baselitz (b. 1938, Saxony, Germany) is known for turning upside down – human forms within expressionist paintings that attempt to distance themselves from content and narrative. Baselitz in his long career focused obsessively on sculpture in its purest form, on color and texture, bringing to light new perspectives in German Expressionism. The exhibition George Baselitz: Sculptures 2011-2015 presents sculptural works and some drawings never seen before because they were not originally intended for public viewing.This exhibition is especially about his contemplations on the complexities of representing the human figure in art. Many are sketches or models, in preparation for bronze works. Each wooden sculpture is made from a single tree trunk, which Baselitz carved using power saws, axes and chisels. Its solid and impactful figures maintain the texture of the wood, with distinctive engravings and notches on their surfaces. Displayed at the Serpentine South, surrounded by the trees of Kensington Gardens, these wooden sculptures recall their original life forms in the forests of Saxony.
For further information Serpentine.org