The Creative Director Nadège Vanhee-Cybulski embraces luxury travel, an outdoor escape for a city woman with a utilitarian look. "When you dance you just want to let your body go free. We've been so confined that I really wanted to celebrate getting back outdoors, feeling the wind, the heat, the sweat on your skin," says the designer. The result is a collection based on technical and performative elements, to which Vanhee-Cybulski nevertheless managed to give a sense of lightness without making it too utilitarian. It is a return to a life in the heart of nature, an ode to dancing in the desert, where the garments chosen feature the hues of yellow ochre, ebony, sand beige, Thar brown and sunbaked red. The fashion show opens with leather suits and windbreakers in these shimmering earthy colors. Many garments of the collection look as if they had been cut straight from a net. "I drew on all the elements of the tent, the hammock, everything related to outdoor activities," explains the creative director, recalling the hiking details, which are partly functional and partly decorative.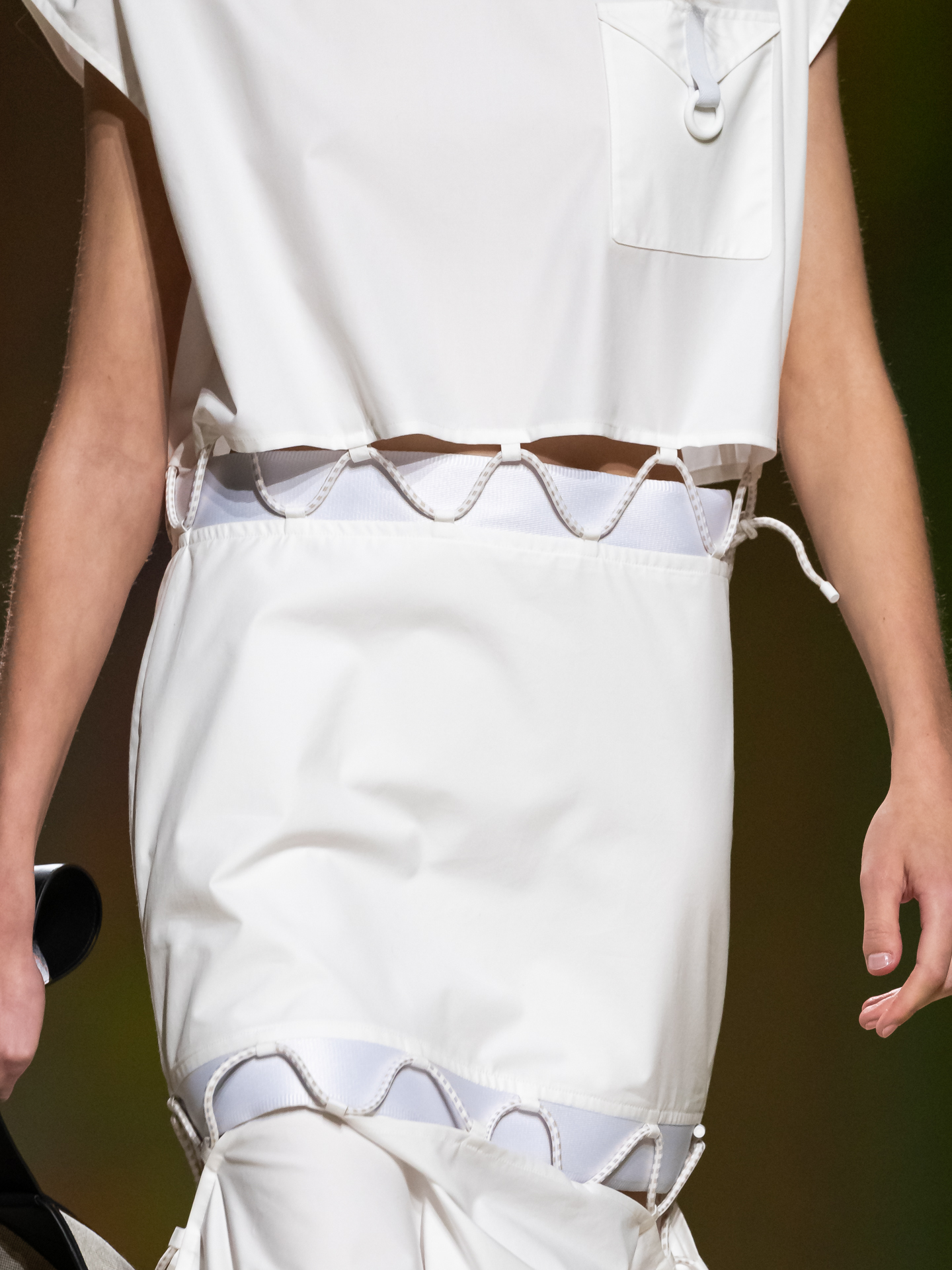 "It was time to go out and release, let go, and celebrate togetherness and freedom, beyond space and time, and just… tripping!"
Technical pieces include a raincoat with a technical fabric back and breathable mesh, and a hooded rain poncho made of soft leather; and talking about details there are elastic cords similar to those of climbing rope, used to hold clothes together, and thin garments with easy-to-use zippers for a customizable look. Some of them are reminiscent, throughout their lengths, of the waving of a flag. The shoes, elevated platform sandals that give the impression of walking on air, add a sci-fi feel to the show and a modern edge. "Pierre wanted to push the idea of floating in space," says Vanhee-Cybulski, referring to Pierre Hardy who designs the  footwear, "so he designed these carbon shoes that are outside of gravity." As the evening reached its climax, the Hermès woman wrapped in a 3D-printed dress that associates her movements with the lines of her body,  finally carries with her, on her person, this exciting inner journey that began with joy. A bivouac, a dance, and everywhere this feeling of immensity… A collection characterized by sophisticated and clean silhouettes, contemporary and refined garments, light weights, and graphic printed dresses that create optical illusions on the body.