"I always make the clothes shine if I can"
The sun sets, the light gets warm and suffused as the guests of the show take their seats. The murmuring stops and the voice of the astronauts landing on the moon fills the space while mixing with a soft and dramatic tune. A woman proceeds solemnly, she will be the first of 101 exits, a precious piece of jewellery adorns her face from ear to mouth, she is swathed by an impeccable faux fur cape finely embroidered, an impalpable gown appears underneath, it is dark as the sky, all inlaid with precious tiny jewel lights, its thiness juxtaposes to the bold bondage twist of the tight-high leather boots under it. She is the first star of Gucci Cosmogonie Collection, that Alessandro Michele, the interstellar maestro, presents in an extraordinary location where history, esoterism and dream blend: Castel del Monte.
A majestic fortress well known for its octagonal shape. Located in the middle of Puglia countryside around the thirteenth century, its formal perfection and its harmonious blending of cultural elements from Northern Europe, the Muslim world and classical antiquity reflect the humanism of its founder: Frederick II of Hoenstaufen, a poet, polyglot, mathematician, and magician—who presided over a vibrant multicultural court of scientists, artists, and warriors. It is no surprise it resonates with Alessandro Michele fascinations, who suspends the Castle serene silence and celebrates with a vibrant spring rave the lively energy and cultural fervor it was once known for.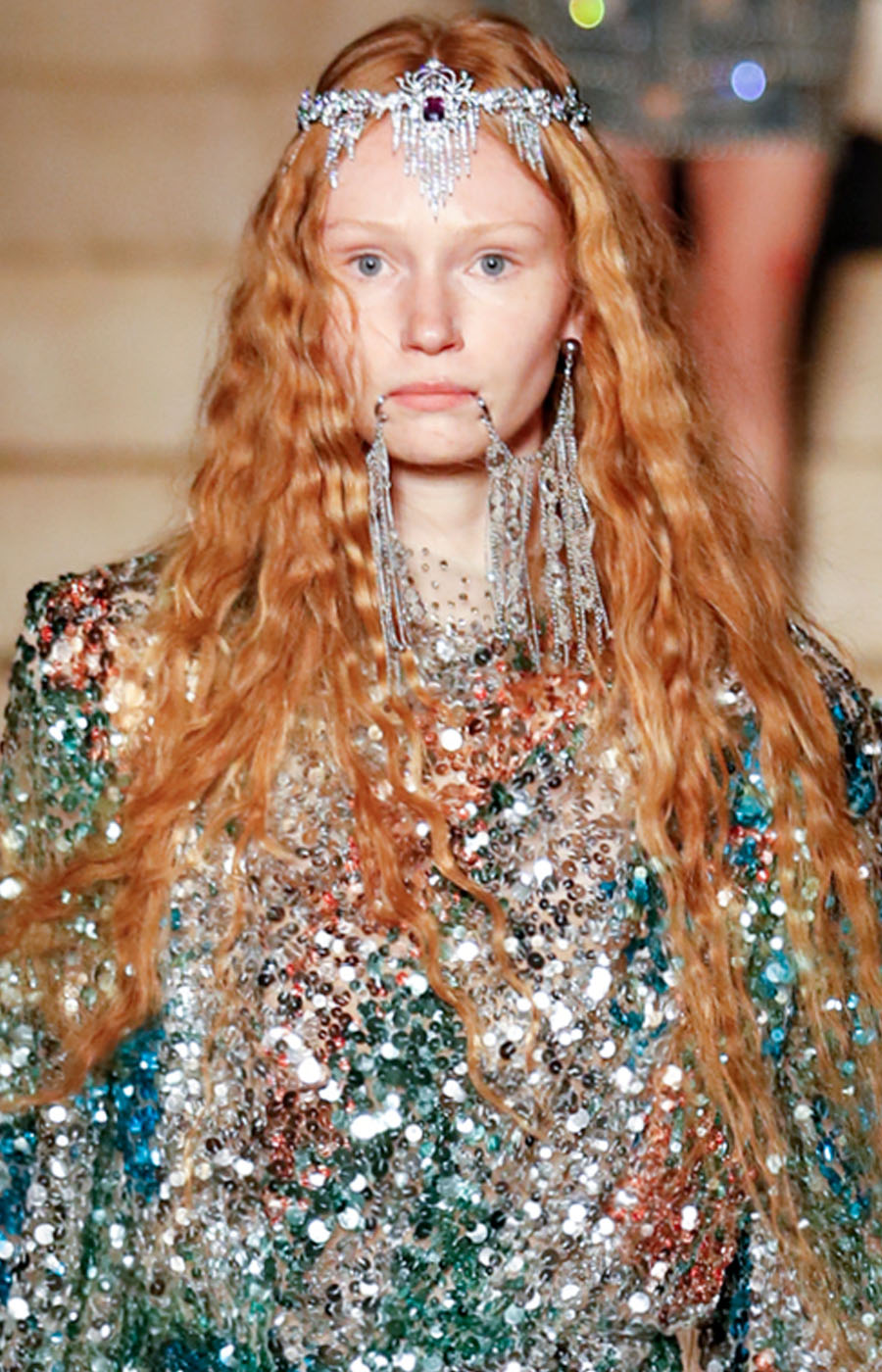 His magical flux of consciousness draws from the past dense symbols to write his own mythology of the present, where fashion is a constellation of idioms deeply connected to life and humanity, where configurations of reality, as philosopher Walter Benjamin called them, who Alessandro Michele looks up to and celebrates for the richness of his thought, rely on the possibility to explore and embrace other's thoughts. Hence, fashion is not an exclusive system anymore, but rather inclusive and inherently free.
Under a magnetic Full Moon, the stars of Alessandro Michele freely shine while parading around the fortress: nocturnal creatures, romantic heroines and graceful bourgeois ladies were swathed in medieval gowns cascaded in sequins, all-leather trenchcoat and thigh-high boots, nude looks and impalpable chiffon minidresses. The Collection was a poetry of colors, silhouettes and references. What seemed dispersed at a first sight, found perfect balance in a new galaxy of optical patterns, impeccable tailoring, retro-inspired boots and baggy denim jeans. Sacred and profane, past and present, from Greta Garbo suggestions to the Maneskin, who shined a bright and surreal energy during their exhibition at the afterparty all covered in satin and sequins. Once again, the Creative Director masterfully progresses a narrative that traverses centuries, geographies and languages reminding us that there are no rules when it comes to dressing up.
"It's not that what is past casts its light on what is present, or what is present its light on what is past; rather, image is that wherein what has been comes together in a flash with the now to form a constellation."