The Caten twins once again tell their irrepressible streak of fun and provocation at the same time. Next summer, the Palm Beach country club will become the place where the wealthy people who live there will try on the role of adult film stars. The collection mixes preppy essentials and bold, almost raunchy details; it is a mash-up that takes many of the looks or elements from archival Dsquared2 collections. It is a stripped-down interpretation of body coverage, but characterized by irreverent humor and endless spectacle. It was a challenge of hybridization, a fusion of archive and innovation, a search between stylistic references that marked an era and elements so dear to the popular culture of entire generations.
"In Palm Beach, middle-class country clubs enter the world of adult filmmaking."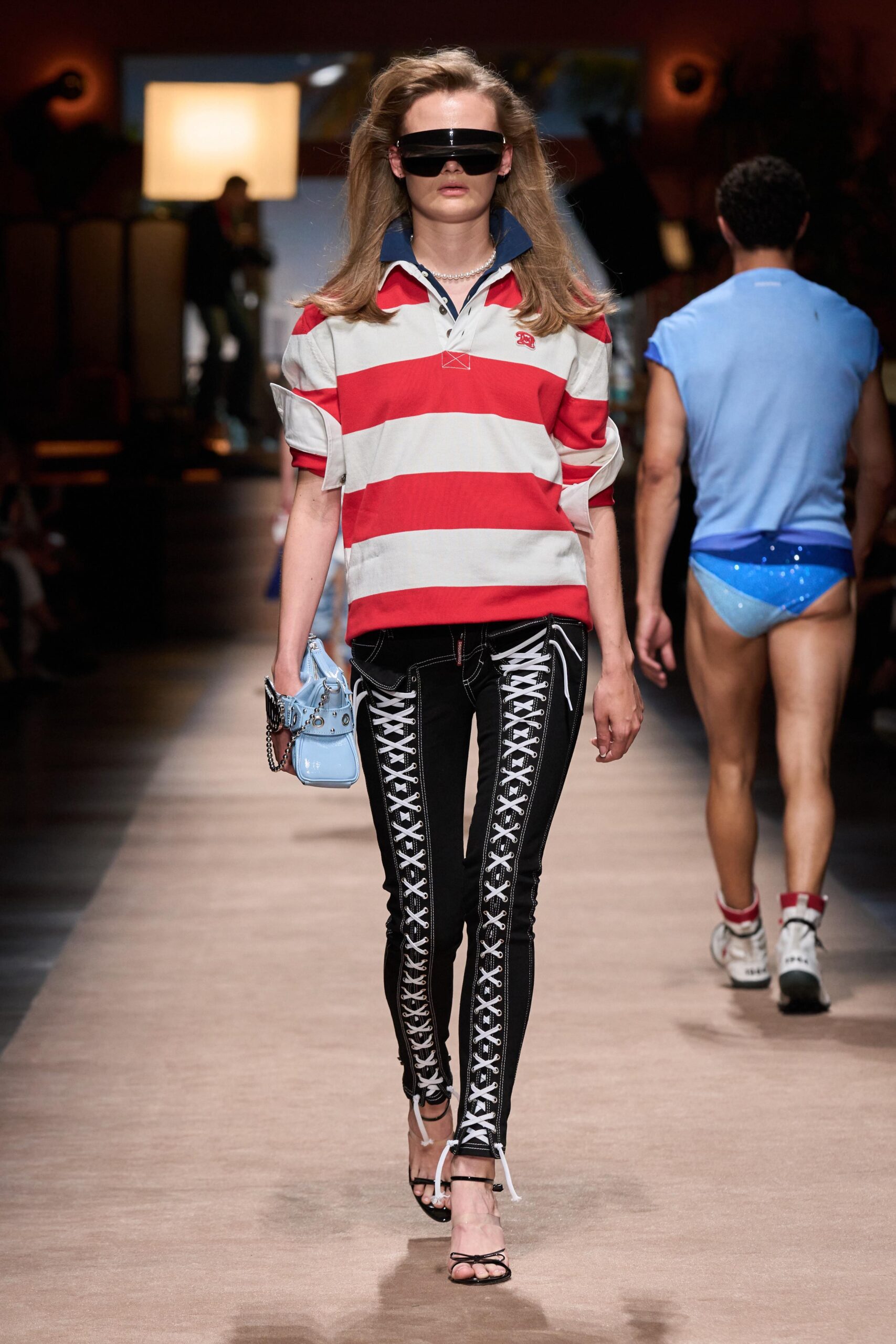 The entire outfit is inspired by the sporty aesthetic of the golf and tennis worlds. Striped polo shirts mingle with button-down shirts, tennis skirts blend with elaborate pearl necklaces paired with double-breasted jackets and ankle-laced metallic sandals. The Rolling Stones' iconic tongue takes on a new dimension and is repurposed in a women's top decorated with beads and a men's tank top with vertical cuts. Denim is presented in its most basic and essential form: low-waisted jeans for women are cut below the waistband and on the thighs with a network of resin rings; men's jeans, on the other hand, are washed and reworked with a zipper at the back that allows a glimpse of underwear, a cut inspired by a Dsquared2 denim silhouette from the 2000s. Other denim proposals are covered with flat studs or feature cut-out star appliqués. Colorful prints with retro-style floral patterns color men's underwear outfits, and the coordinated theme is taken up to present a set of satin shorts and bomber jackets. Pastel colors characterize proposals designed for the women's wardrobe; flowers and butterflies decorate a short dress with a corset waist. An argyle cardigan covered with crystal stones is reimagined in the form of a mini-dress, with neckline and shoulders recreated by knotted sleeves. Another version of the striped rugby shirt is cropped at the bust, with a built-in bra underneath. The ultimate mix-up is recognized in men's tie fabric that is cut into a women's miniskirt, paired with a boucle jacket with shirting and delicate ankle-wrapped sandals adorned with quilted flowers. Boys carry tennis bags and enamel duffels with American sports-style graphics. In fact, accessories designed for the occasion include a bag with a gothic belt and rugby-style laces at the sides, the heart-shaped Open Your Heart bag presented in glittered resin, and, a distinctive element of the entire défilé, baseball jersey underwear.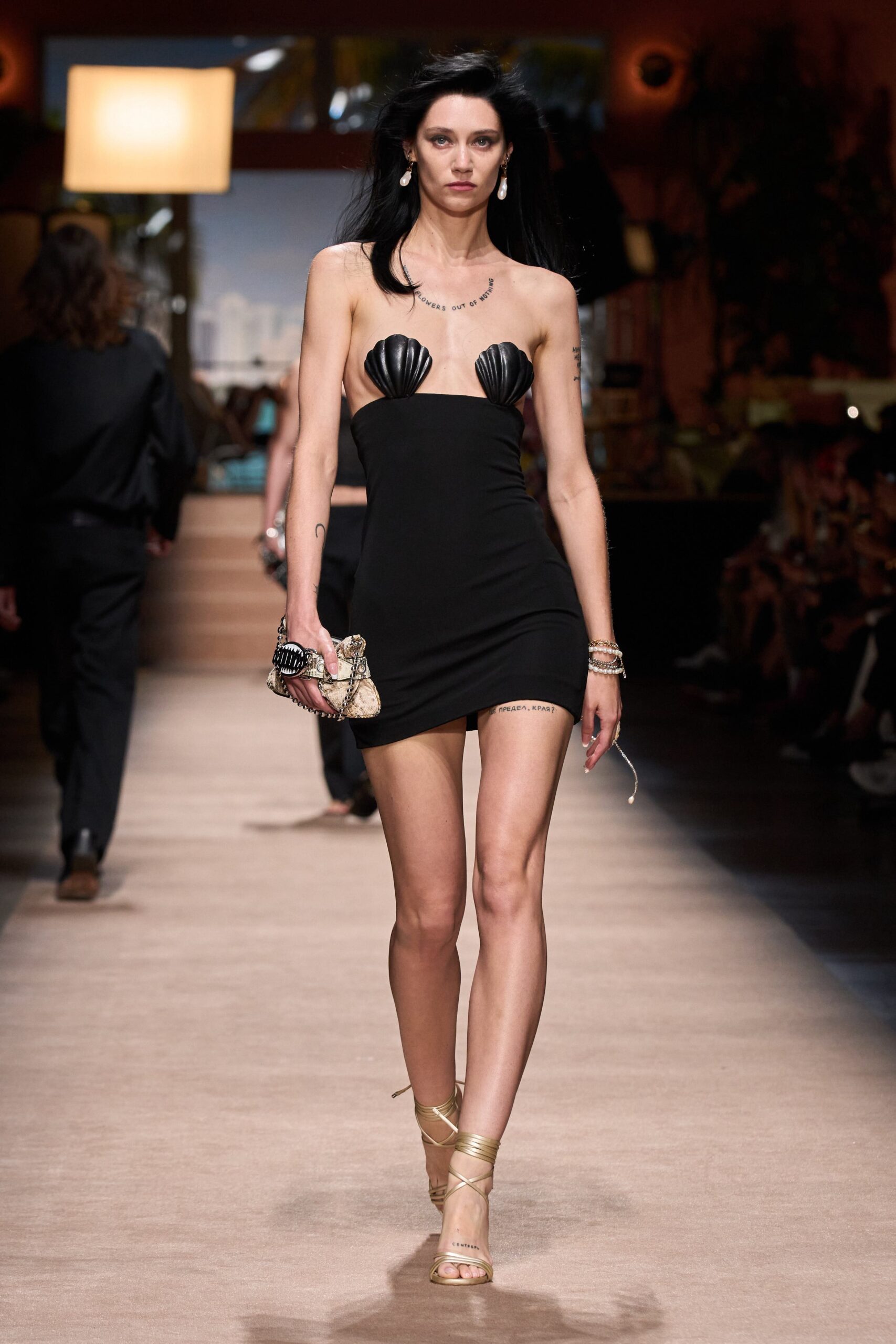 "Sexual versus correct. The privileged upper crust trying adult entertainment. The élite meets the snob. Snob meets snob."
Preppy essentials and bold details are thus recounted within the collection for the upcoming Spring/Summer season in which Dsquared2 reprises archival looks: in addition to bringing Rocco Siffredi's hot movie world to the runway, it goes fishing for elements in tennis club aesthetics, creating a deliberately desecrating combination of bourgeois and snobbish aesthetics. The set design of #D2NAUGHTY extends into a penthouse overlooking Miami Beach, with Rocco Siffredi pretending to shoot porn, filming Julia Fox with an undefined partner. The soundtrack with pounding rhythms and moaning is the song Love To Love You Baby by Donna Summer. Dean and Dan Caten have once again been able to tell their exaggerated point of view, creating an excessive but characterful ensemble within a unique collection.