A collection born from the encounter of two seemingly different worlds, that of Colmar and Joshua Vides. The historic company from Monza is celebrating 100 years, during which it has specialized in sportswear, with a focus on skiwear, making highly technical and qualified garments. "With Joshua it was soon love…" said Colmar's CEO Giulio Colombo, "It was a difficult challenge, looking back at our archive and taking inspiration from what we have done in the past. Joshua is a great artist, he used our garments as a blank canvas, painting over them. This has was a big asset". Vides is a visual artist from California. He gained extensive experience working in streetwear brands, until he created his own brand CLSC, which quickly became a global success, distributed in more than 400 stores worldwide. In 2017, Joshua posted his first custom Air Force 1 sneaker on social media, and through that unmistakable black and white artistic stroke he made his name resonate with the world, finding a personal, identifiable voice. The following year, in 2018, he decided to expand his work to visual art, creating the space Reality To Idea, which takes his graphic idea toward the construction of real parallel realities achieved through his recognizable hand sign.
"I usually start collaborations without a specific idea in mind. […] In this case, I thought about what an artist has in common with an athlete: the idea of constant creativity in finding solutions, the best possible ones, to react to failure. The satisfaction of winning after failing several times, of standing on a podium and getting back up after a defeat."
Between Colmar and Joshua there was a deep connection from the very first moment, which developed into a collaboration that focused on some of the brand's best-selling pieces, on which the artist made his intervention manually. Composed of ten garments in total, the collection traces Colmar's culture and know-how. The iconic pieces are two down jackets and a reversible padded vest, printed in black and white on one side and total black on the other where, on the other hand, Colmar's very first logo from 1923 is reinterpreted in a new graphic form on the back, with a dove gliding over the water. A cashmere-and-wool Jacquard sweater echoes the legendary jacket made in the 1970s for Valanga Azzurra and renamed Ceffa by champion Erwin Stricker, and also celebrates the company's years and birthplace as a real ski race bib. Speaking of historical references, a t-shirt filled with gold medals around the neck reproduces an iconic photo of Croatian ski champion Ivica Kostelic. Accessories include two caps with a trompe l'oeil design of ski goggles and a total logo scarf. Completing the capsule is a unisex sweatshirt in Colmar colors and a pair of internally gauzy cotton pants. Colmar's logo is also revisited in JV style, in black and red. For the occasion, the artist allowed himself to transcend from his iconic black and white, devoting himself to variations on the theme in the brand's colors: white, red and blue.
JOSHUA VIDES IN CONVERSATION WITH GUIA ORTOLANI
GO Hi Joshua, congratulations and a real pleasure to meet you! It's fascinating how through your unique black and white pictorial tract you manage to transform reality into abstract worlds, into real comics. What inspires you in your daily life?
JV My biggest form of inspiration is my family, my wife and kids. It's amazing when I wake up in the morning and I see them happy, it is probably the best feeling in the world. I think that carries over the moment I step into the studio. Probably one of the biggest practices of my life is to fulfill this position as a father, husband, friend and mentor. I think that's way more important than painting a canvas. It's kind of like a pressure to fulfill that space, that pressure kind of allows me to create on spot, and keep going and get started.
GO Through your career, you have collaborated with major brands and institutions. I'd like to know how you choose your collaborations, and what made you decide to create this collection together with Colmar?
JV Most of the time it is the collaborators who reach out to me. In my decision process, If I am aware and fan of the brand, that's check number one, than it has to make sense with what I am doing at the moment. Sometimes when I am in conversation with the brand, even If I am really excited to go further, they might want to focus on something specific that may not make sense for me in that precise moment, so the collaboration doesn't happen, regardless of the brand, of how much money they have… It really has to intertwine with where my energy is at, during that release. Regarding Colmar, at first I didn't know much of the brand, but that didn't mean I shouldn't do it. The biggest thing that drove me to them was that in the seventies they took over skiing, and it was so important for sport and for that time in general, if you think about seventies…. They were kind of the pioneers, and I think that's really fucking cool. The other thing was seeing how successful this brand is, family owned, and knowing that it was a true crossover from our two different worlds. I think that's really interesting. 
GO Your creative process is often very impulsive, you react to the stimuli of the moment. What was the starting point for this collection? 
JV Celebrating Colmar's heritage and history, with past products. Instead of just developing an entirely new jacket that has never existed, since there are so many collaborations and products that I have made that exist out there, at this point I am focusing on how to help the collaborator's conversation rise. My consumers will be like "Oh shit, Colmar was the brand that all the skiers were wearing in the 70s and that's why he painted the jacket to look like that". So I'm allowing the storytelling to live through the product.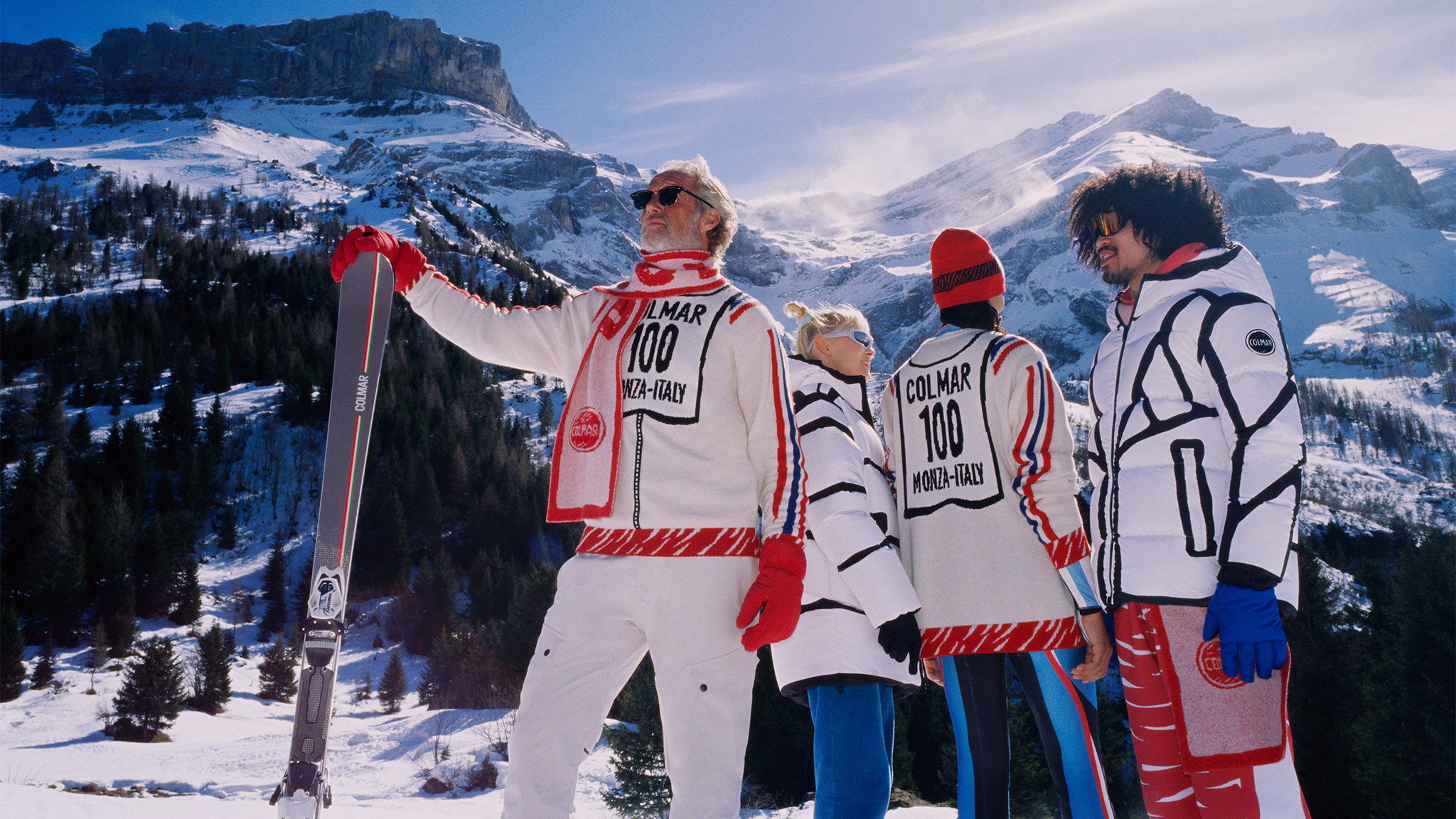 GO Talking about the past, you had access to Colmar's vast archive. What's the aspect of brand's evolution through the years that intrigues you the most? 
JV They have found what they are good at and they stuck to it. I feel like a lot of brands loose lot of time and energy trying to expand into things they know nothing about, and then you see them fail… Colmar has focused on what they are respected at and expanded form within. I think that's very interesting, if they'll continue on this they will be doing something really cool for other hundreds years. 
GO So true, consistence pays off! What is your favourite piece of the collection?
JV It's hard to say, but I think the quality of the jacket it's crazy! Being able to see my artwork on something of that high quality is really fun and enjoyable for me. So I'd probably say the puffer jacket!
GO I love the puffer jacket too, and I think the sweater is iconic! How relevant is the technical aspect of a garment and how important is the aesthetics for you? 
JV I know what I am good at and what I am not good at, and I kind of allow the collaborator to focus on the technical aspect. I'm really good at storytelling, I'm very good at marketing and at just putting everything together, with my hands too. In every collaboration, it's important that each partner needs to do what they do best, that's true collaboration!
GO Being you a multifaceted person, a visual artist, a designer, graphic designer and former creative director of your brand CLSC, what is your vision on fashion today? How do you think it is evolving now? Which are the trends you are most attracted to? 
JV First and foremost I am not the most fashionable person. I kind of wear the same things everyday, but I have a ton of respect for fashion. My biggest note would be that today streetwear it's bigger than it has ever been, and I was part of a program where streetwear was still hidden, you know? So I'm just really proud that I was part of a moment in history, that will never happen again. I'm proud to see my friends and colleagues either focusing on their brand or getting jobs at really big brands, I think that's super cool and exciting… because ten years ago we were just printing t-shirts! 
GO Last question Joshua, what is your favorite hobby? Or maybe your job is already your fave one?
JV If you walk into my studio, on a Tuesday at three o' clock, most people are at the computer, working or doing something… I'm probably playing with clay and watching a movie. Somehow I have dreamed of this life, where I am able to kind of just do whatever the fuck I want, and that's my job! 
GO Your life It's your dream, you are actually living a dream! 
JV  Yes I am! 
The collection is now available at Antonia Store in Milano, Via Sant'Andrea 10, on Antonia.it, at Colmar Stores and on Colmar.com.