Chanel's Métiers d'Art 2022/23 show emphasizes the link between artisanal craftsmanship and the Maison's Couture proposal; it has been presented in various venues around the world since 2002. Virginie Viard, the brand's creative director, unveiled the collection in Dakar, it creates a perfect combination of unmistakable French fashion and African art. The show, which featured a multicultural collection with 1970s charm, was held on December 8th inside the former Palais de Justice in Senegal's capital. Guests at the fashion show were welcomed with an engaging performance featuring dance by Dimitri Chamblas, the Slow Show's choreographer, and the singing of Obree Daman with his choir. In fact, the collection is proposed as a true cultural exchange in which Chanel's codes are reinterpreted while also focusing on local tailoring techniques, always keeping savoir-faire central to the project.
"Going beyond the runway show, it's the event as a whole that I took into account. We've been thinking about it for three years. I wanted it to happen gently, over several days of deep, respectful dialoguing."
The 63 creations brought to the runway classic tweed, Chanel's key point and distinctive element, revisited with plant motifs, geometric patterns, and colorful patchwork details in warm hues, harking back to a typical African atmosphere. An unusual combination that continues with floral and animal drawings combined with braided pearls, jeweled buttons and dazzling sequins. The collection takes shape with long, tight-fitting coats, narrow and flared pants, platform shoes and oversize embroidered sweatshirts, all recalling the 70s in every detail, the beating heart of Virginie Viard's imagination. The real star of the fashion show is the suit, obviously reinterpreted in a Seventies key, made with short jackets and flared pants, but also wrap skirts worn over slouchy pants. The pop-soul-funk-disco-punk decade with its fascinating freedom, symbolized by an explosion of energy, is embodied by an exultant woman. For the brand's creative director, in fact, reviving those years is like bringing their rhythm back into everyday life.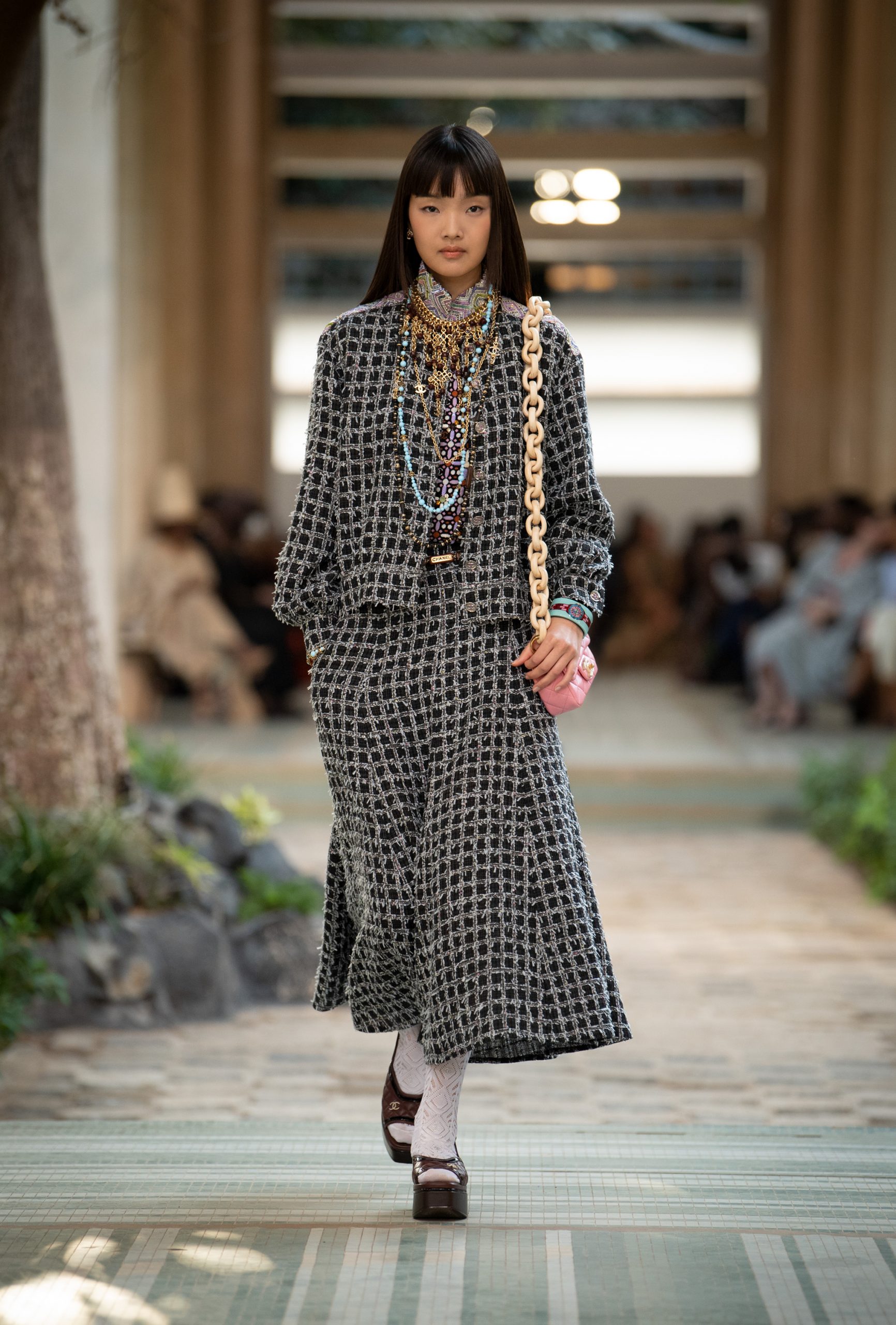 "Real dialogues, nourished over the long term, it is this human and warm dimension that motivates my work and that I try to re-transcribe. I put all my soul into it. These marvellous encounters from which artistic adventures like this one are born, that's what drives me."
In addition to celebrating the art scene of the important cultural capital at the opening of the show, Virginie Viard decided to combine haute couture with dance and music throughout the runway show, which closed with a musical performance curated by DBN Gogo, a South African DJ and producer. The French fashion house also wanted cinematography to play a part in the project: in collaboration with the Kourtrajmé schools of Montfermeil and Dakar, which support aspiring South African filmmakers and screenwriters, they documented the Métiers d'Art 2022/23 collection from its inception in the Paris ateliers to the event in Dakar. Since Virginie took over as artistic director in 2019, her modus operandi has remained the same: meet, dream, and build together, with others.
"It is an exchange. We explained the project to the students, gave them a vision. They then suggested content while staying true to the Chanel world while respecting their own artistic identity."