Chanel Métiers d'Art collections are always an amazing celebration of the infinitely precise and skilled artisans hands that create all the embroideries, feather, pleats, shoes, hats and jewellery based in France, Italy, Spain and Scotland. Through a creative dialogue, the set of savoir-faire perpetuated and constantly reinvented by these breathtaking craftsman contributes to rendering each creation an exceptional piece. Interpreting the Chanel branding through graffiti-like embroidery in colored beads by Lesage, Virginie Viard highlights the Gen Z widespread logomania. Other hints to the young generation are the micro belts at the bare waist, which featured tiny bows and the giant black hair bows. Very Chanel chic were tweed jackets with sweatshirt sleeves, maxi-length skirts opened high up the thigh and those double-C cardigans and double-C pleated miniskirt. Viard's references to the 80s are pretty clear in oversized trouser jeans and structured jackets, and more heavily on accessories, as chunky belts, layered long necklaces, and colorful crossbody bags all included.
"The 2022 Métiers d'Art collection is very metropolitan yet sophisticated, tweed jackets with sweatshirt sleeves, graffiti-style embroidery in colored beads by Lesage, voluminous purple or royal blue knit Bermuda short-outfits, and casual coats worn open."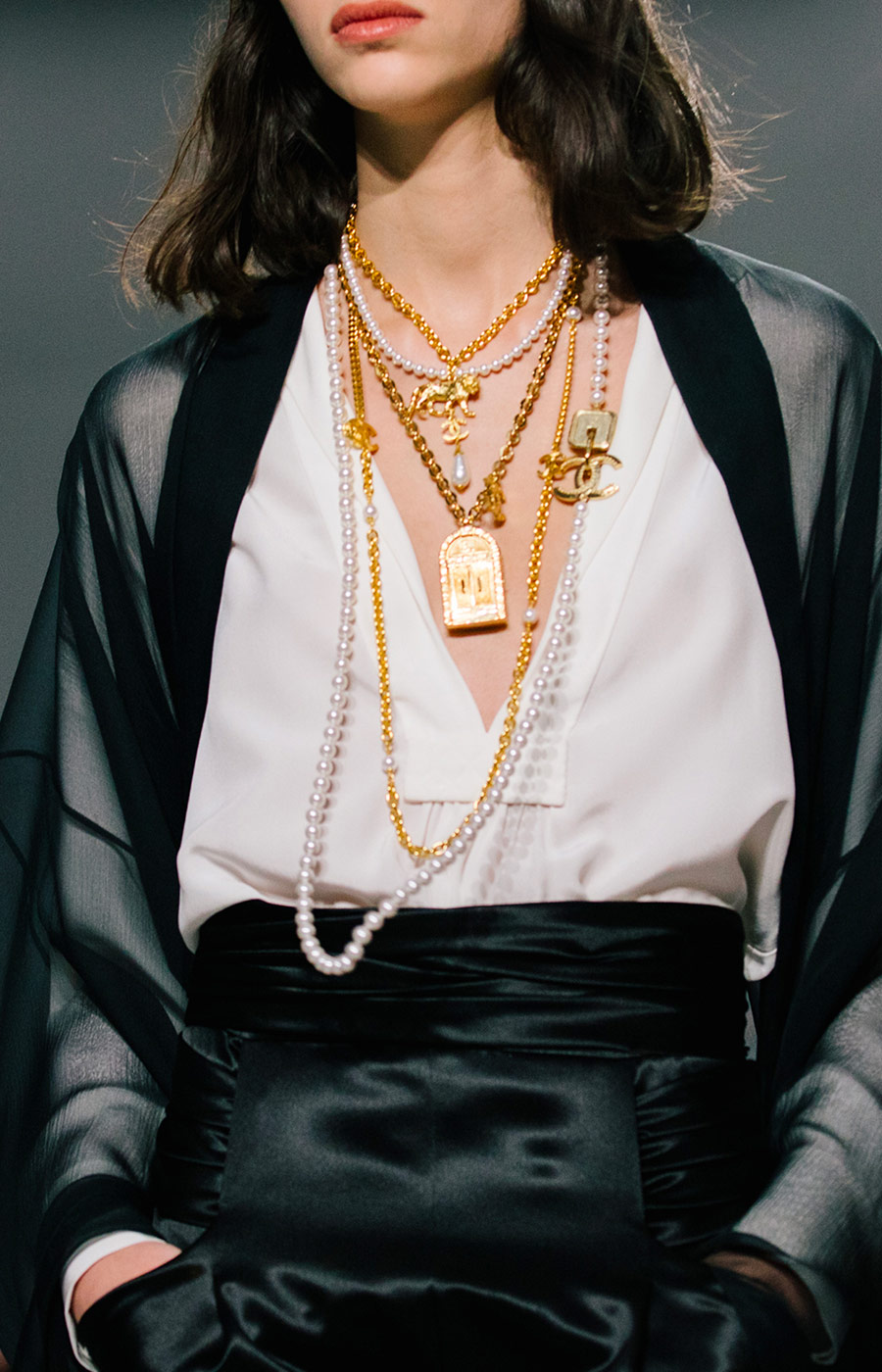 Besides the retro references within the collection, the choice of cropped knits and baggy trousers is a clear indicator that Viard is on top of current trends, also featuring a modern matching camel knit-and-legging with a sophisticated cape and armfuls of bangles, baggy jeans with an elastic waistband, and voluminous knit Bermuda shorts-outfits. A selection of sheer black skirts, paired back to Mary-Jane pumps and loafers was a continuation of the Creative Director distinctive playful attitude. The intricacy and detail of the métiers d'art collection was joined by a design that felt casual and light, not just for a formal red carpet, but for a luxuriously-lived everyday life. This season Virginie Viard took over le19M, the newly opened building devoted to the workshops of the maison's artisans, where she presented her most crafts-centric collection within the very same architecture that had informed its cuts and motifs. Super modern, the industrial chic of the grey concrete was the perfect backdrop to yet another sublime and extraordinary Chanel collection.
"Many of the embroideries are inspired by the structure of the building itself, such as those by Montex, which are very graphic and in silver sequins."