Bottega Veneta's SS24 collection is an Odyssey. Traversing it is creative director Matthieu Blazy, who in designing his third collection for the brand has gone to great lengths, making us travel with our imagination. Taking off clothes of previous seasons, the business look evolves into something pleasantly unusual. The incredible craftsmanship achieves a global vision, with a range of influences from around the world. The "national dress" becomes "international dress," tailored suits give way to primal, natural, uncoded garments.
The first look is an almost old fashioned one-piece swimsuit, accompanied by a large "straw" style bag made of  leather intrecciato. The simpler silhouettes of the first releases introduce adventurous garments, the result of moving away from the codes. Notable among these are the crocheted dresses with maxi pompom embellishments, the leather poncho overlaid with a leather trench coat, as well as the "shaggy" salt-and-pepper coat. The wealth of materials, fabrics and techniques used to create the clothes are found in structured suits, solid constructions, draped evening dresses and extraordinary knitwear.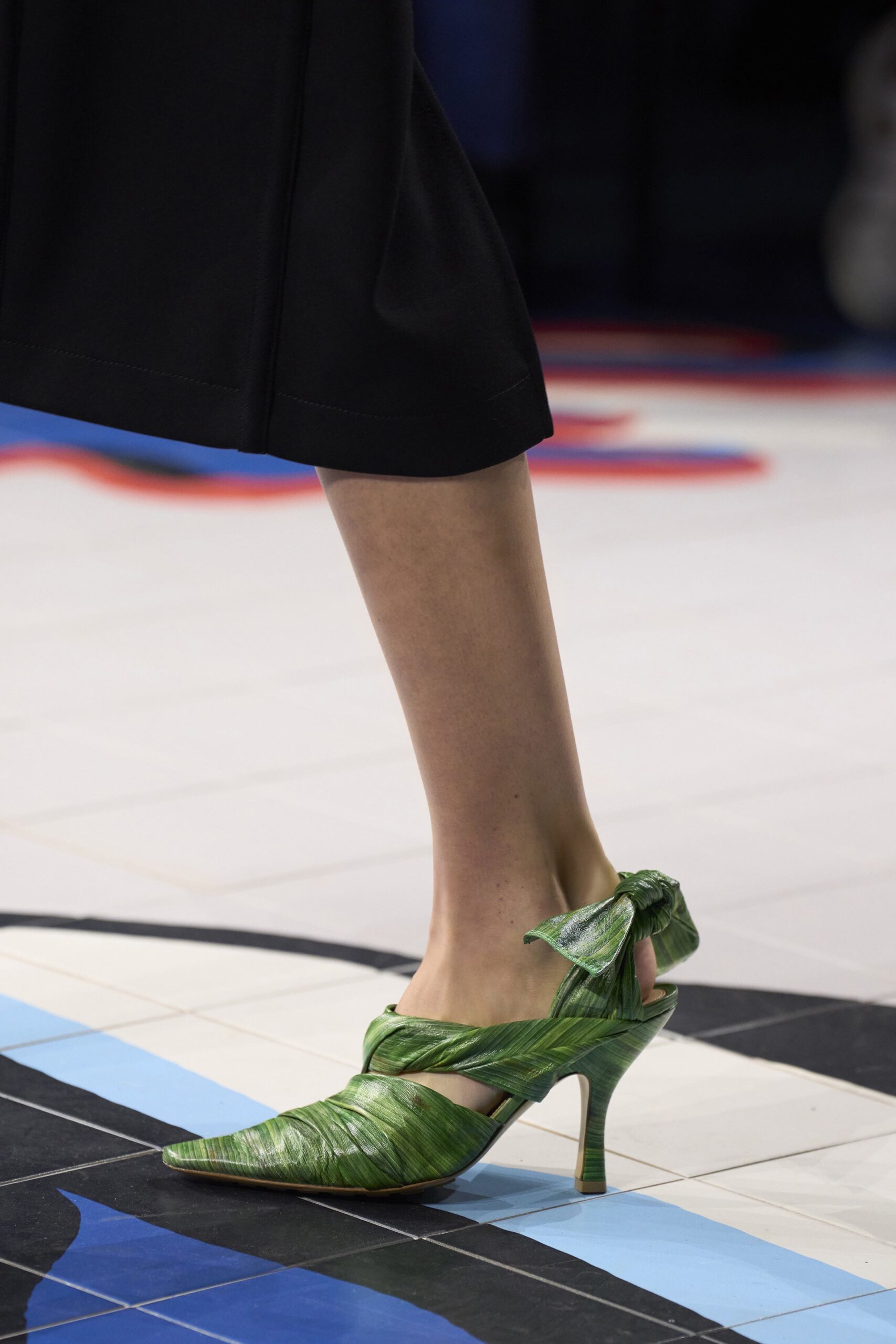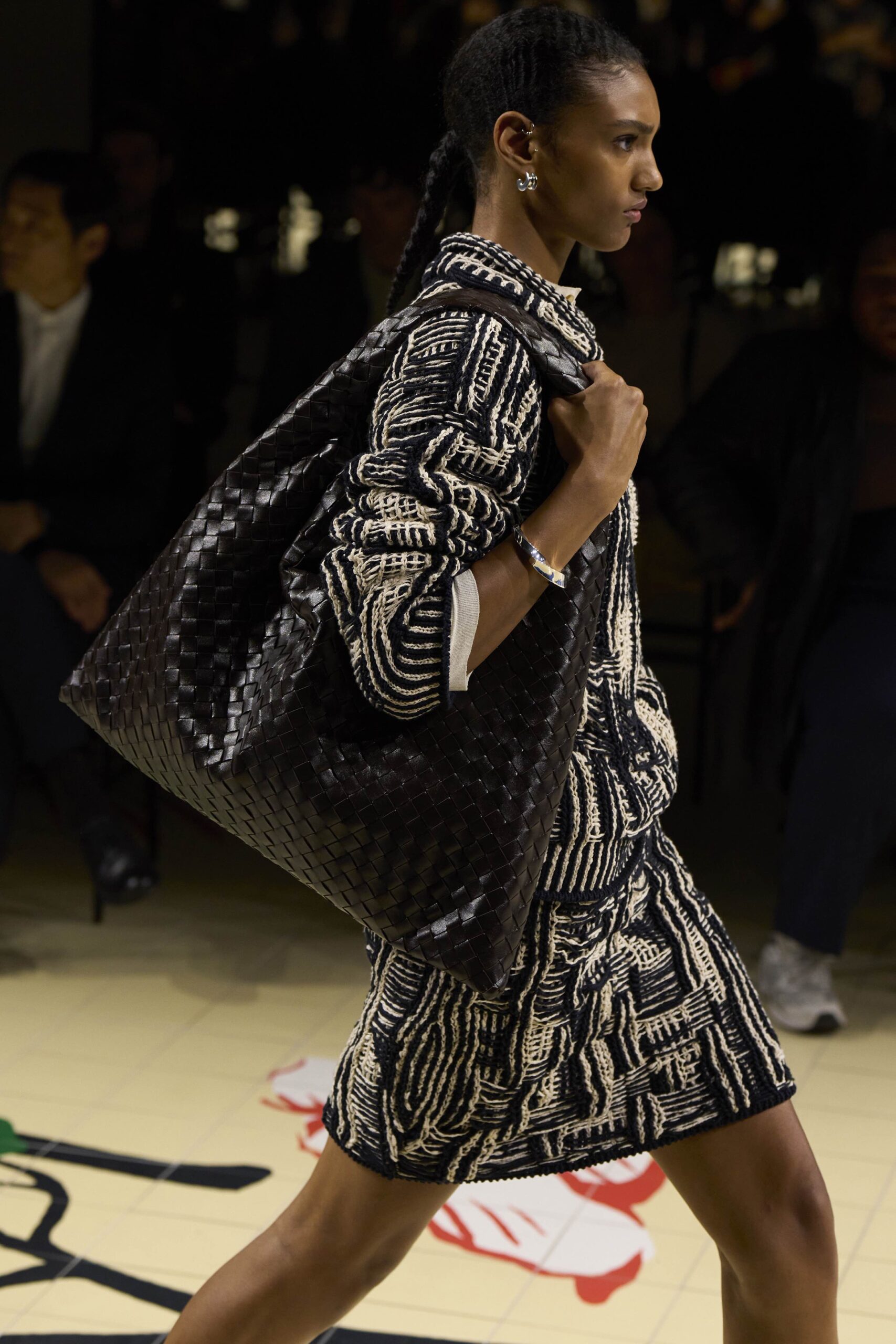 "Odyssey: a free and hopeful journey. A connection to who you once were, who you would like to be and where you want to go. Odyssey is both external and internal, physical and a product of the imagination. It is a journey of transformation and escapism."
Colors and proportions come together in joyful, enthusiastic, dreamy play. Bangs are repeated in layers, in abundance, and the garments take on a life of their own, dynamic, constantly moving. The raffia and rope of dresses and suits are all surprisingly made of fine leathers, like the thin colored stripes that characterize a skirt and a dress both emblematic of different worlds' encounter in this collection, such as South America, Brittany, Southeast Asia… leather alternates with tactile, highly sophisticated materials, sometimes voluminous and enveloping.
The optical illusion continues to amaze especially through the accessories, the apotheosis of travel trinkets… "banana leaf" sandals (actually made of leather), leather newspapers from around the world that turn into Foulard bags, oversized Sardine in ceramic and intrecciato that take on an almost unprecedented look. Mini and maxi, this time the accessories are more imaginative than ever, inspired by nature, with a nod to sea animals, such as the coral-colored fringe bucket bag. A collection that goes beyond the boundaries, and makes us wonder again, through a distant imagination that expresses itself with precise and concrete forms: dresses of cactus and Nautilus shells, flowers, fireworks and rock formations. The personal pleasure of being whoever and whatever one wants to be, of traveling in fantasy as well as over the world through clothing, is the coveted fruit of research.
"There is a need to reconnect to a primordial world made of animals, minerals and plants. It's like collecting shells: beautiful, meaningful or insignificant. It is connected to the beauty of small wonders and natural treasures. It is embracing something spontaneous: these are clothes without codes."