Against the backdrop conceived by Gaetano Pesce and based on his debut collection, creative director Matthieu Blazy continues to chart a definitive course through craftsmanship with his distinctive, intergenerational cast. "The world in a small room" is the premise of the show, where Pesce was given carte blanche by the creative director to produce a temporary artwork as a display space for the SS23 runway show, consisting of a sculptural resin floor and 400 unique chairs, declined by the artist in a new design. The collection is the result of the creative exchange between Blazy and Pesce, and revolves around the idea that we are all different, original and unique. Different characters, dressed for every occasion, where elegance meets utility; an infiltration of the everyday with meaningful materials and techniques, only achievable through the artisanal tradition of Italian ateliers.
"It's this kind of casual comfort and we put it to an extreme and we call it perverse banality".
Stories of clothing and character are explored by maker and wearer, an exchange that involves a sense of motion and emotion. The result is in the balance of something felt rather than just seen, in the quiet power of a more private pleasure. The protagonist of the first looks was leather. Kate Moss sported a casual flannel shirt that required 12 layers of print to achieve the desired colour.  The archetypal garments are all printed, in soft nubuck, surprisingly made; from the Italian woman in her everyday chinos and practical shoulder bag, to men and women in suits that in profile reveal a more radical, recurring silhouette (where the Boccioni inspiration is made more slender and sinuous, with a nod to aerodynamics, which is also found in the sculptural footwear); to women and men in another take on traditional tailoring subverted (a neo-noir idea finds shape in the Volcano silhouette, with its funnel neck and deep waist). Jackets lose their lapels and turn up their collars, and the handmade can also be seen in women's dresses made with jacquard-worked fabrics to design landscapes; bangs on dresses are disheveled and irregular, giving movement to otherwise too normal shapes. Plaid shirts that shorten, wrap skirts, overlapping and layering of cotton and leather trench coats, regular pantsuits for women, colored leather pants for men.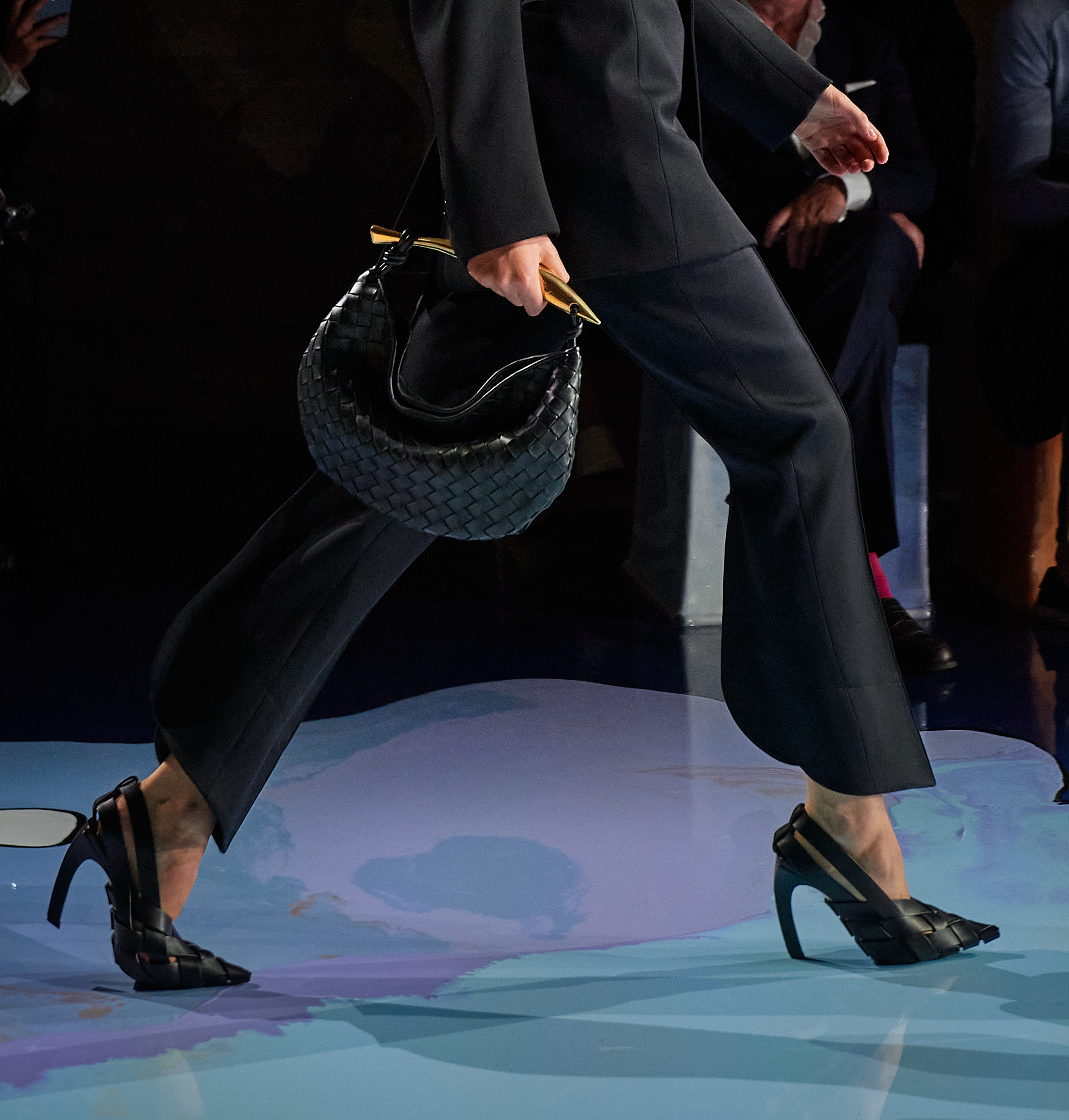 Rigorous fabrications, all freshly and exclusively formulated for ultra-lightness, fullness, movement and texture, are found throughout for both men and women; from bold, full, knotted cotton silk tailoring fabrics that are a new take on boucle, and the tension of twisted mouliné in contrasting colours, through to the 'high sewing' of mid-century Venini flowers on 'Chandelier' dresses, their delicate embroideries layered on cotton crepe gauze over nylon sheer jersey – the tension of the past and future in one. A stratification of history also appears in knitted jacquard,  like elaborate Futurist patterns. Layered with embroidery and beading, each is unique, a conflation of past, present and future through craft. This everyday ordinariness makes people focus on the product; the clothes are rich in meaning, but beyond the concept, the collection is wearable and desirable. Simultaneously pragmatic and playful, it brings a sense of subversion to tradition and perversion to discretion, with dynamism, sensuality and vitality. The cast continues to be on the move, and this season is more on the go than ever, making everything non-standard, non-serial, original and distinctive.
"Moving between the archetypal and the individual, through clothing and character, we are designing not just for one woman or one man, but for women and men."