Between paradisiacal Hawaiian beaches, unforgettable lavender fields of Provence and lunar-looking salt marshes in Camargue, Simone Porte Jacquemus, founder and creative director of the French brand, with each show manages to amaze and make his guests experience the true contact with the natural worlds. For the Spring Summer 2023 collection, the designer makes guests travel with their minds to the end of summer, in the shade of a dazzling sun hiding behind embracing curtains and wet by a very light and incessant rain of raffia. The latter is the undisputed star of the show and hence the name of the collection "Le Raphia": a poor material par excellence that Simone uses not only as a scenic element, but also as details material on garments or to make entire accessories such as bags in mini or maxi shapes. The show takes place in the Parc-des-expositions space at Le Bourget in Paris, where Jacquemus' codes are explored again with new three-dimensional shapes and textures. The show opens with a black mini-dress worn with a huge raffia hat and exaggeratedly proportioned flower-shaped earrings, elements that characterize the entire show. The brand's iconic pastel colors are mixed with brighter hues such as fuchsia, red or yellow combined for the polka dot pattern.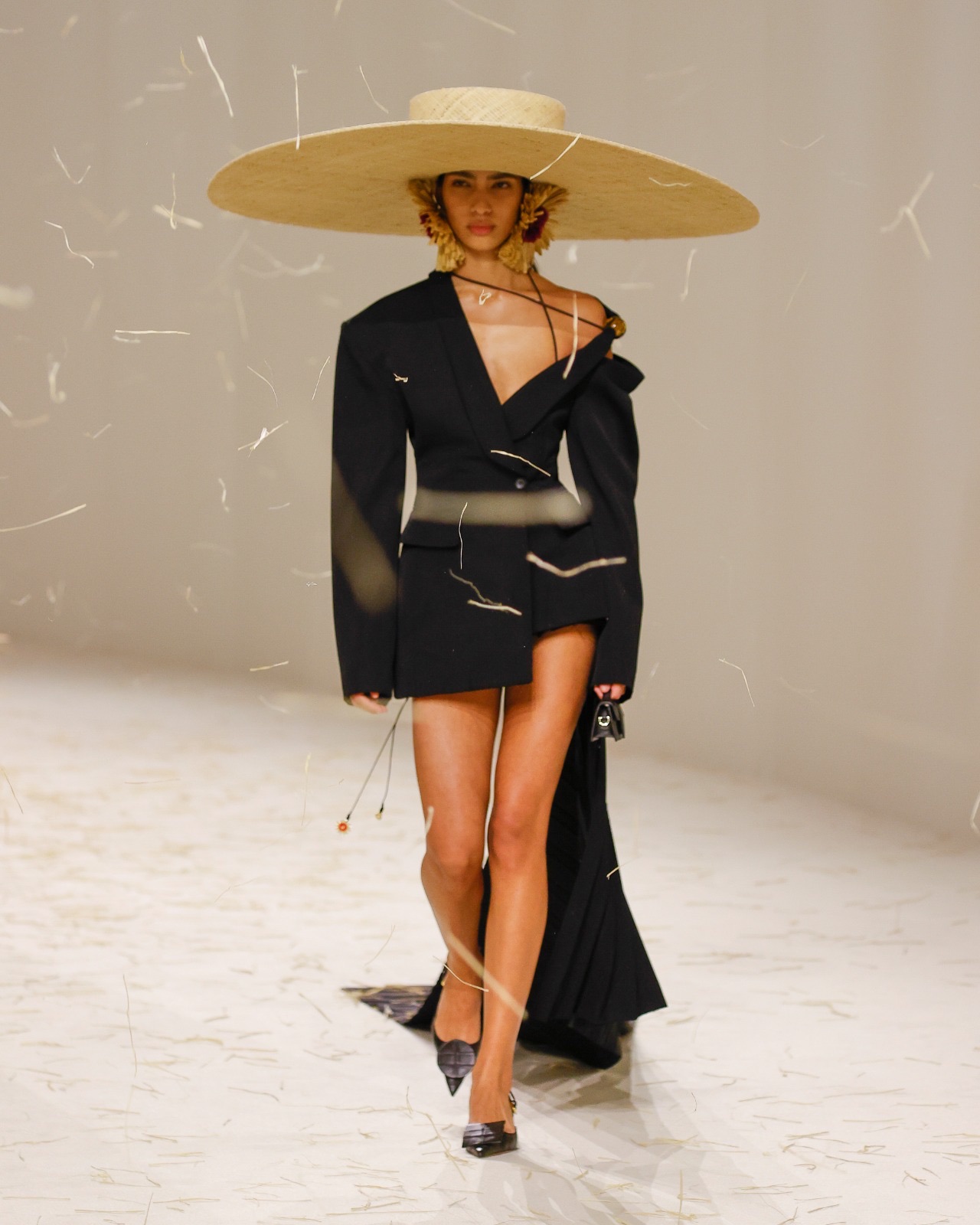 "It's the end of the summer
All these colors, all the dreams that I saw, that I had, go away
The smell, the beauty,
The Raphia rain sweeps everything away as in a dream…
Will I see again those big hats, those flower buckles, those prints?
I think so."
"Le Raphia" presents different genres that mix with each other, creating a perfect balance between different materials and shapes used. Covering suits with long skirts and jackets alternate with mini-dresses that leave even the B-side uncovered, while denim pants and jackets with almost endless collars give way to semi-transparent mini crop tops that always make the brand recognizable. The beach marks its return in the collection with draped body-skimming and bikinis blending with evening dresses, while silver jeans paired with vibrant colors steal inspiration from early 2000s trends. Raffia is used in almost every look thanks to a skilled handmade savoir-faire: woven like a fabric on tailored jackets, left rough to achieve a maxi volume effect or starring in entire jackets. Details in garments and accessories for Jacquemus are fundamental, in fact small tassels embellish transparent knits and opaque sequins create colorful spirals. "Le Raphia" places a certain attention on natural fiber by emphasizing its high quality and versatility, and evoking indescribable sensations typical of summer, along with a return to a spirit of craftsmanship revisited in a contemporary key.