Anthony Vaccarello decided to bring to the runway an ultra simple but at the same time ultra chic woman, described in a collection reduced to the bone, to the essential. The Creative Director's will was to eliminate all tinsel and decorativism that grips the vision of traditional fashion. The SL woman is pragmatic, has a severe attitude but at the same time is feminine and sensual. The proposals are daytime occasions with softer and looser silhouettes than the character of past seasons. Vaccarello decides to focus on a new canvas, white and pristine, on which to draw and build a new chapter of the brand, paying homage to its heritage and distinctive characters that echo in the minds of those who observe and instead see themselves dragged headlong into a world of homologation. The revisitation of quiet luxury becomes for Saint Laurent an insight in which characters of femininity and masculinity collide in the clear inspiration to women pilots and aviators. Amelia Earhart and Adrienne Bolland are just two of the pioneering personalities who have been part of the designer's research, and who have made it possible to achieve a result in full SL style: an assertive refinement, a combination of wardrobe, and a free choice.
"I see so many complicated things, so many embroideries, so many decorative things, that I wanted to take it all off, to do no more than necessary. To make a clean canvas. Start again a new chapter for Saint Laurent."
The Saharian jacket is the key element around which the narrative of the entire collection unfolds, a clear inspiration to the world of North Africa, in which founder Yves Saint Laurent grew up. A cultural background of inestimable value and continuous fascination. First created as a one-piece for a feature in Vogue Paris in 1968, it has since become a pivotal garment for the Maison, becoming an object of desire for both women's and men's wardrobes. The Safari jacket is presented over soft men's pants with prominent cuts and pences, outfits we see in colours of black, green, beige, cream, brown, and burgundy. The cuts and lines remain strict, as do the volumes of the utilitarian-inspired jumpsuits. The most decisive femininity appears in the transparencies of tops, shirt dresses and straight knee-length skirts with patch pockets and leather belts around the waist. The choice of materials is also reduced to what is necessary: cotton and linen occupy the entire défilé, except for the muslin that distinguishes the latest evening outfits.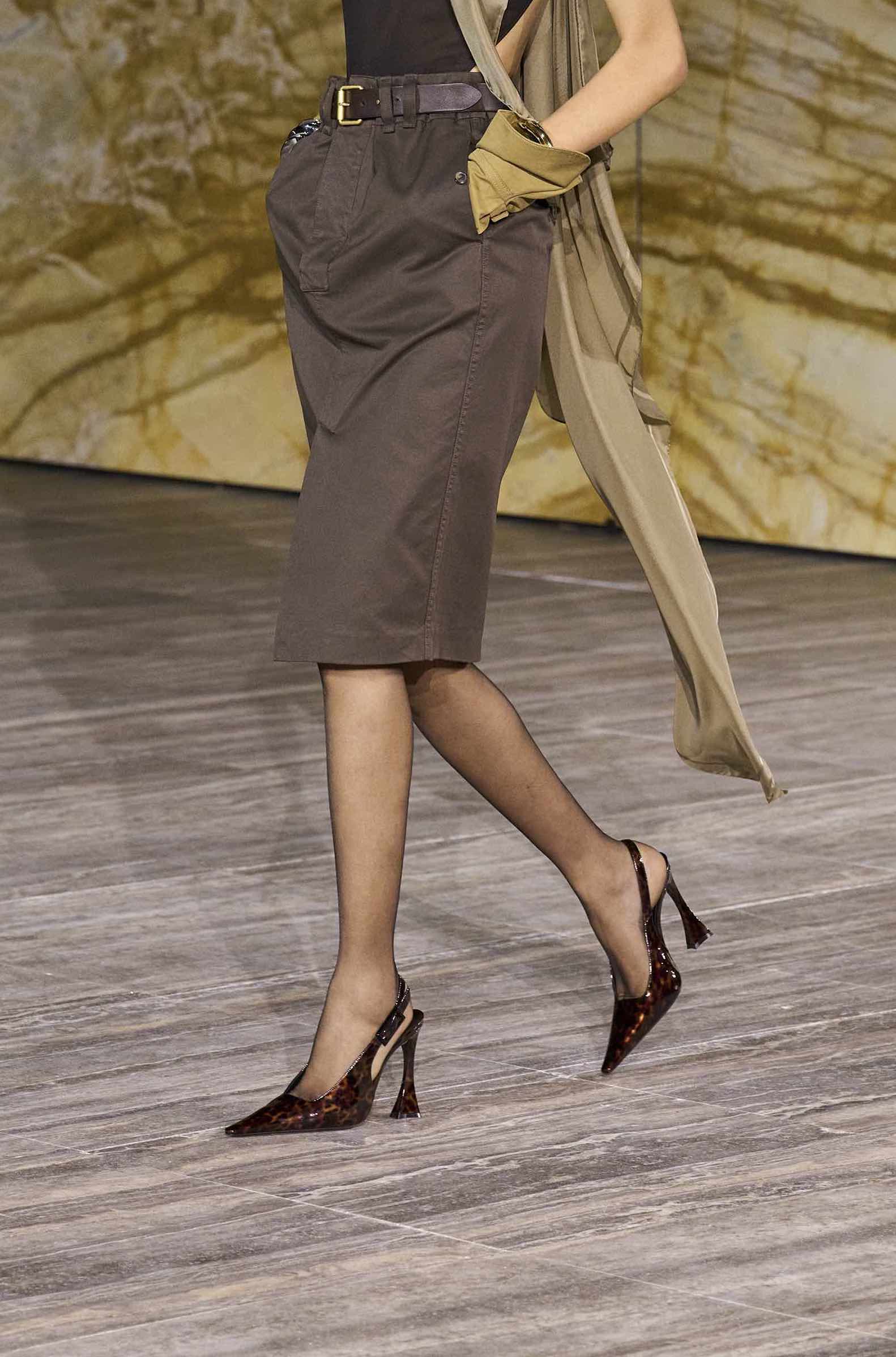 Make-ups are inspired by the 1980s, with hair lacquered back to uncover the face, red lipstick to light up the faces of the muses parading and challenging the distant horizon with their gaze. Jewelry has an unquestionably unique importance, gold and silver come together in earrings with important shapes that illuminate the face and décolleté, large rigid bracelets are worn over soft leather gloves, as if to give an appearance of preciousness even to a seemingly mundane accessory. Aviator glasses complete almost every look, with dark lenses and swathing lines. Heels, vertiginous, and declined in the same tones as the color palette of the fabrics used for the looks, are now a hallmark of femininity that Vaccarello can no longer do without.
"Doing almost nothing for me is hard, especially when I have to do a shirt and trousers."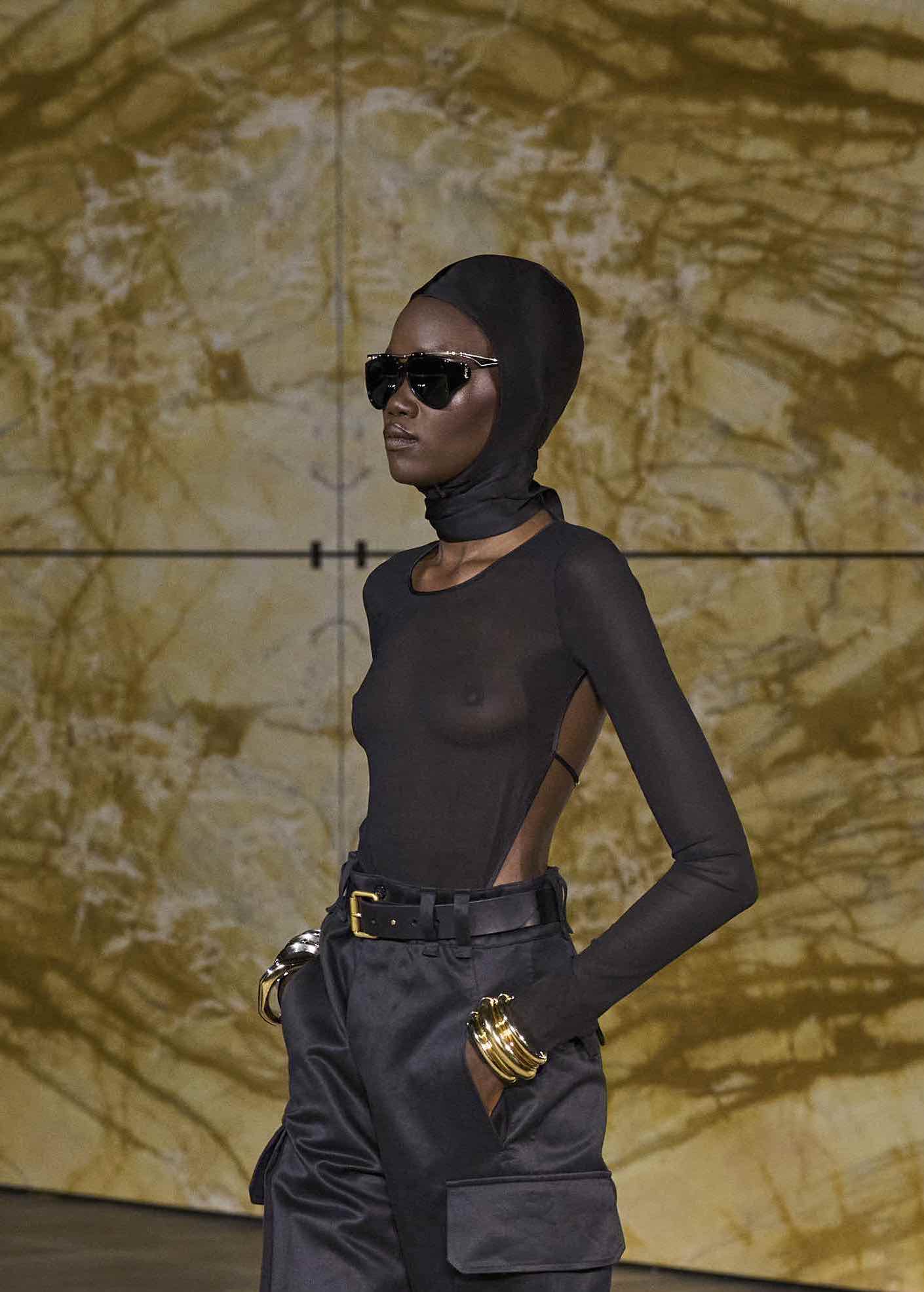 What appears different in relation to the recent collections is the desire and perhaps need to devote more space to the wearability of the pieces, creating many more couture daywear proposals and fewer dresses designed for evening wear. The Creative Director's direction appears simple and humble, determined to restore importance to that Parisian glamour made of strength and awareness in women. With this latest summer collection there is an extra push, an even more heartfelt and evident desire to tell a kaleidoscopic vision of a modern world in constant evolution, in which, however, the values of fashion, contemporaneity and sophistication remain firmly rooted in history. A soft, innovative and visionary elegance. A flavor of Africa and distant lands in the desire to be rooted in such an important heritage.