Gucci Spring/Summer 2024 collection opens between essential elements and a nostalgic reflection of a concluded and outdated past. The reaction to a hectic and ever-changing present world is manifested in clothes that exude certainty, comprehensibility and describe the everyday in the clearest simplicity. There seems to be no longer a desire to tell a desecrating vision of a seemingly unattainable fashion, but that instead of reinventing practical considerations of the real world. As a continuing discourse, Ancora (Italian for again), decides to give a "carte blanche story", an ode to the love of fashion in its essential character. The will for a new construction of Gucci's stylistic direction starts from cleanliness, there are no contrasts, no continuity, but the need to show "attractive and collectible objects", like a daily, open-air museum that is life. The lines and sensuality harken back to that interlude at the Italian fashion house when Tom Ford was leading the creative direction, a '60s-by-way-of-the-'90s character that seems to tell a precise new art form, again.
"It's a story of joy of life."
The first look consists of a peaked lapel coat made of raw charcoal wool and embellished only by a striped grosgrain ribbon in the brand's signature colors applied to the inside of the back slit; a simple white tank top with a deep crew neck; and black tailored pants with a GG buckle belt. The silhouettes are mini and modern, the looks super-leggy. Small shorts, mini and straight skirts in patent leather or trapeze with a vertiginous slit, mini dresses in duchesse satin embellished with crystal metallic greys, slip dresses with lace trim. The white tank top is a must, an essential piece par excellence but made chic by the combinations of colors and elements chosen. Overcoats with colorful lines, crystal bras that dialogue with a matching Jackie, dresses with the recognizable GG canvas, and crystal bangs to embellish the outfits. Accessories are impactful, shoes with wedges and platforms are presented in different color and fabric variants, alternating with minimalist colorful pumps and low slingbacks with buckles.
"I started from the wardrobe, because I felt the urgency to put together the pieces that I like and that I don't find."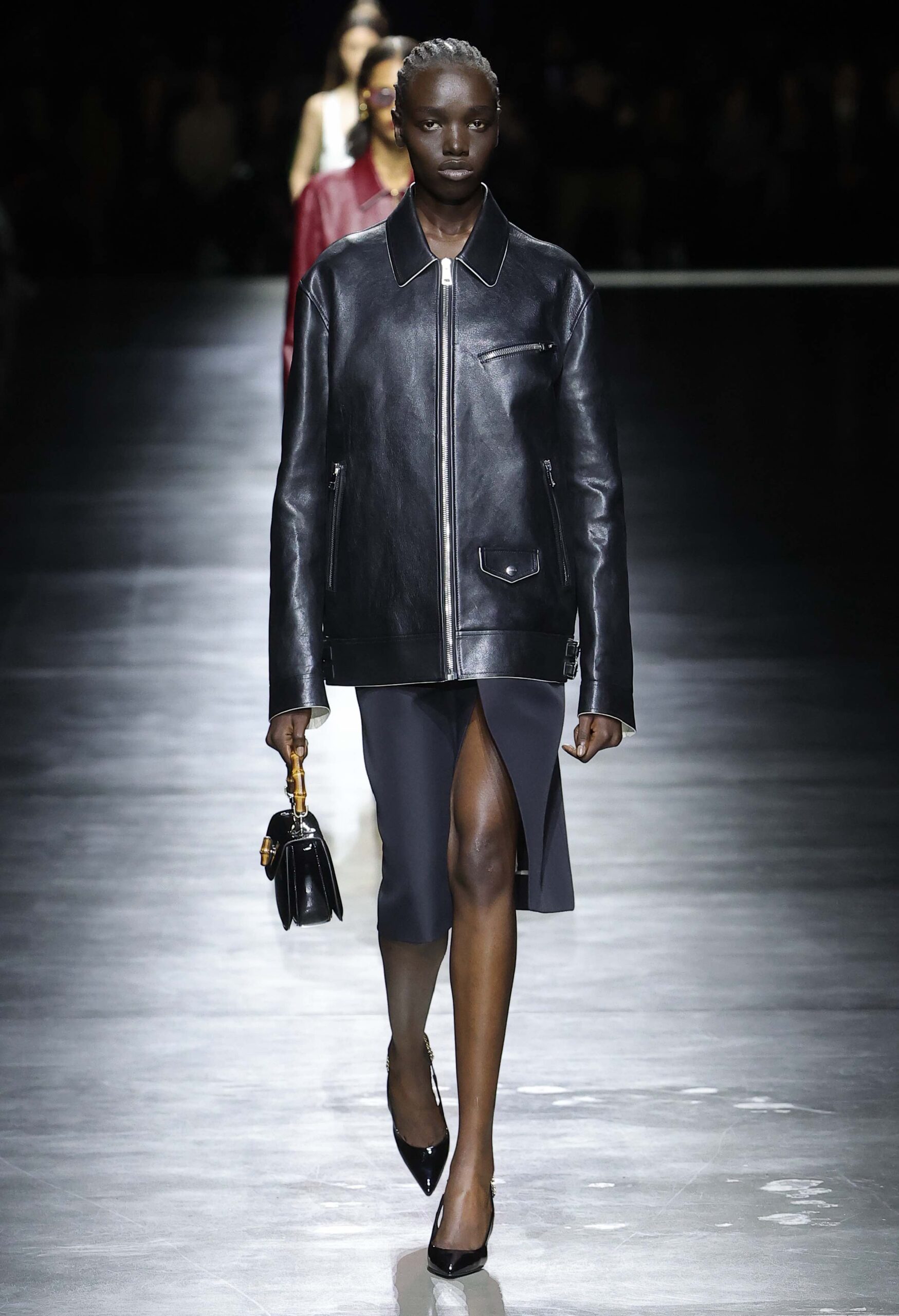 The accessory around which the entire narrative revolves is the Jackie, a classic and timeless element of Gucci's history, challenges each collection by managing to absorb trends that evolve from season to season. From its first appearance, the creation of this bag has been ingenious, with a gentle handle created at one with the rest of the leather body, and the hobo shape that has become unmistakable, and celebrated everywhere. The bag itself then presents different confidences, as does the onomatopoeic sound of its name, first the stiff leather with almost imperceptible stitching, then the golden buckle, cold and hard to the touch, that made it popular. Here the size, quality, fabric and color are disrupted. For the occasion De Sarno employs a softer leather than usual, adds a grosgrain ribbon to the strap, updates its closure, applies an internal zipper with a small pendant, and introduces a new shade of lining, his Gucci red.
"It's a story of everything, again, but this time expressed through joy."
Like any beginning, ideas remain open-ended. This time, in a special way, the word Ancora emphasizes the concept of tying the new direction to feelings of continuity and evolution. The cuts and proportions are well-defined, the shapes are repeated, and found in a story of richness and desire. Of spontaneity and exhilaration. It is a tale that embraces everyone, without distinction, people of irreverent or provocative charm, families, fictional characters or drawn from real life. His fashion is forbidden to no one, but rather free and dynamic, inclusive and engaging. Expectations for Sabato De Sarno are again as great as they were before the long-awaited debut. "It's a story about movies, about my beloved Italy, about intellectuals and traveling around the world, but it's also about feeling at home wherever you go."