Minimalist looks are revisited in a reinterpretation grounded in the formalwear archives. Generational experience crosses the spirit of the times and takes up the archetypes of classic elegance, tailoring silhouettes are reinterpreted in a contemporary key. Formal tailoring is inspired by the military and utilitarian wardrobe. These are two expressions of tailoring that the défilé presents, with seemingly opposite characteristics but made firm by an inescapable bond that speaks of what is the history of the French brand. The overall expression appears more relaxed: soft double-breasted jackets that are loose but square in shape, worn over fluid silk pants. The wonder of the skillful combination is brought to the stage by Williams between sporty-chic looks and seamless evening gowns. All the proposals are technical and elegant at the same time, looks to be used in life and in the real world. The premise told leads one to reflect on the rediscovery of elegance also linked to the old school uniform, an emblem of democracy and rigor. An aesthetic that with time everyone has reappropriated according to individual functions and aspects of personality.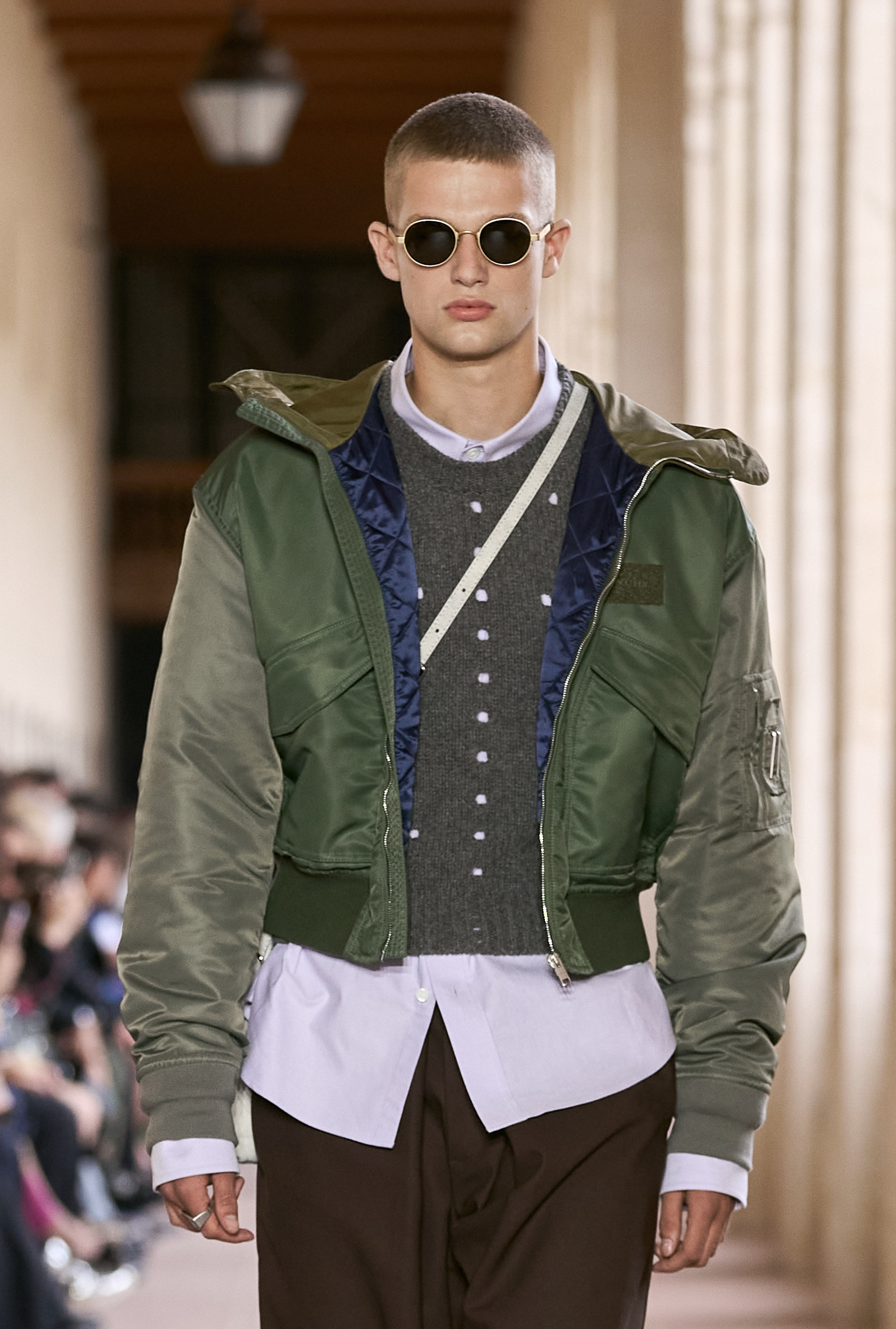 Crusted sweaters, polo shirts, and sweatshirts shrunken, high-necked, or cut on the hips stand for the concept of growth-related proportions. The new formality surfaces from school outfits worn under sports jackets embellished with hand-applied details: archival floral embroidery with crystals and ultralight nappa leather structures. The silhouette is rethought according to men's wardrobe essentials, longline T-shirts and slouchy jersey garments, pants have fluctuating proportions. Tracksuits, along with military shirts and construction jackets, are treated with cutting-edge realized techniques, as is denim, which takes on a new physiognomy from regular cut to skinny shorts. The tuxedos are made of lurex or brushed woolen crisp bringing the concept back to the "realistic" aspect of proportions, appearing slightly longer but not oversized, making themselves the pinnacle of individual elegance. The line of suits is made entirely by hand, in addition to the classic elements such as double-breasted, squared and padded shoulders, they feature a unique detail: the diagonal work in imitation of the military garment that inspired them. Technical bags in suede, nylon, and webbing are worn around the waist, and return, along with backpacks in macro and micro versions, to the school theme. The triangular worked-leather Voyou is presented in a cross-body version with silver and gold details. Derbies and boots have a magnified toe and are offered in leather, as are flat loafers. The sneakers remain a hybrid proposal, in nylon and corduroy, with a refined silhouette that is incredibly combined with elegant footwear thanks to Givenchy's deft savoir-faire. The bijoux are a great homage to Aubert de Givenchy with orchids, one of his favorite flowers. In the spirit of the collection these flowers are hand-forged on earrings, bracelets, and necklaces. Sunglasses revisit classic shapes with minimal-looking oval frames in satin-finished metal.
Elegance as an expression of individuality. Tailoring as a sign of nonconformity. Refinement without constraints.
Careful sartorial work interprets generations through haute couture. Givenchy Men's Spring/Summer 2024 collection thus explores the fusion of elegance and individuality, offering a new perspective on the traditional conception of menswear proposals. Creative director Matthew M. Williams examines the evolution and development of men's dress culture, recontextualizing its classic codes to create a sophisticated aesthetic free of constraints. It is a real challenge to classical notions of elegance and offers a distinctive sartorial expression to the nonconformist man. The archetypes of class are redefined and told with a refinement of casual spirit, the collection captivates through its exceptional craftsmanship, fine tailoring and innovative design.