Easy to do 2+2. The white camellia and Coco Chanel. 1913, on a beach, pinned to a suit. Sensual androgyny, obvious. Marcel Proust later always pins it to the suit. First, Coco getting upset – at last – seeing Sarah Bernhardt obviously play The Lady of the Camellias. Alexandre Dumas' 1848 novel. It was even the "basis" for Verdi's La Traviata. It actually tells of a lady but kept woman, or prostitute that she is, who often went to the theater with a bouquet of camellias that for 25 days were white and for 5 days, a kind of "Red Lanterns" to signal her availability. Then there are the 1960s (twice the size of the 30s, but I don't think anyone thought of that, it's silly): those nouvelle vague – not just French, the reference is to William Klein – that underlie the sets/collages of faces, of a face then, that Inez and Vinoodh superimposed on the show and the large central camellia, that of course turned red. Virginie Viard's masterful work for the Fall Winter 2023/24 collection is a transformation of the romantic symbol into a normal (seemingly) weapon of attack. Closing the androgynous phase, too widespread and decadent, the camellia becomes embedded force, texture, or extroverted to signify a quiet feminine force ("La force tranquille" was the fantastic copy of Mitterrand's campaign centuries ago), relaxed and all but maintained, deadly – as a Japanese ninja not surprisingly, lightning-fast – against a stupidly warlike male power. All clear. If that were not enough, here is Sylvia Plath, a soft knife in the chest.
(…) Darling, all night
I have been flickering, off, on, off, on.
The sheets grow heavy as a lecher's kiss.
Three days. Three nights.
Lemon water, chicken
Water, water make me retch.
I am too pure for you or anyone.
Your body
Hurts me as the world hurts God. I am a lantern—- 
My head a moon
Of Japanese paper, my gold beaten skin
Infinitely delicate and infinitely expensive.
Does not my heat astound you.? And my light?
 All by myself I am a huge camellia
Glowing and coming and going, flush on flush.
I think I am going up,
I think I may rise—-
The beads of hot metal fly, and I, love, I
Am a pure acetylene
Virgin
Attended by roses,
By kisses, by cherubim,
By whatever these pink things mean.
Not you, nor him (…)
(Fever 103, 1962, from Lady Lazarus and Other Poems, Mondadori, February 2023)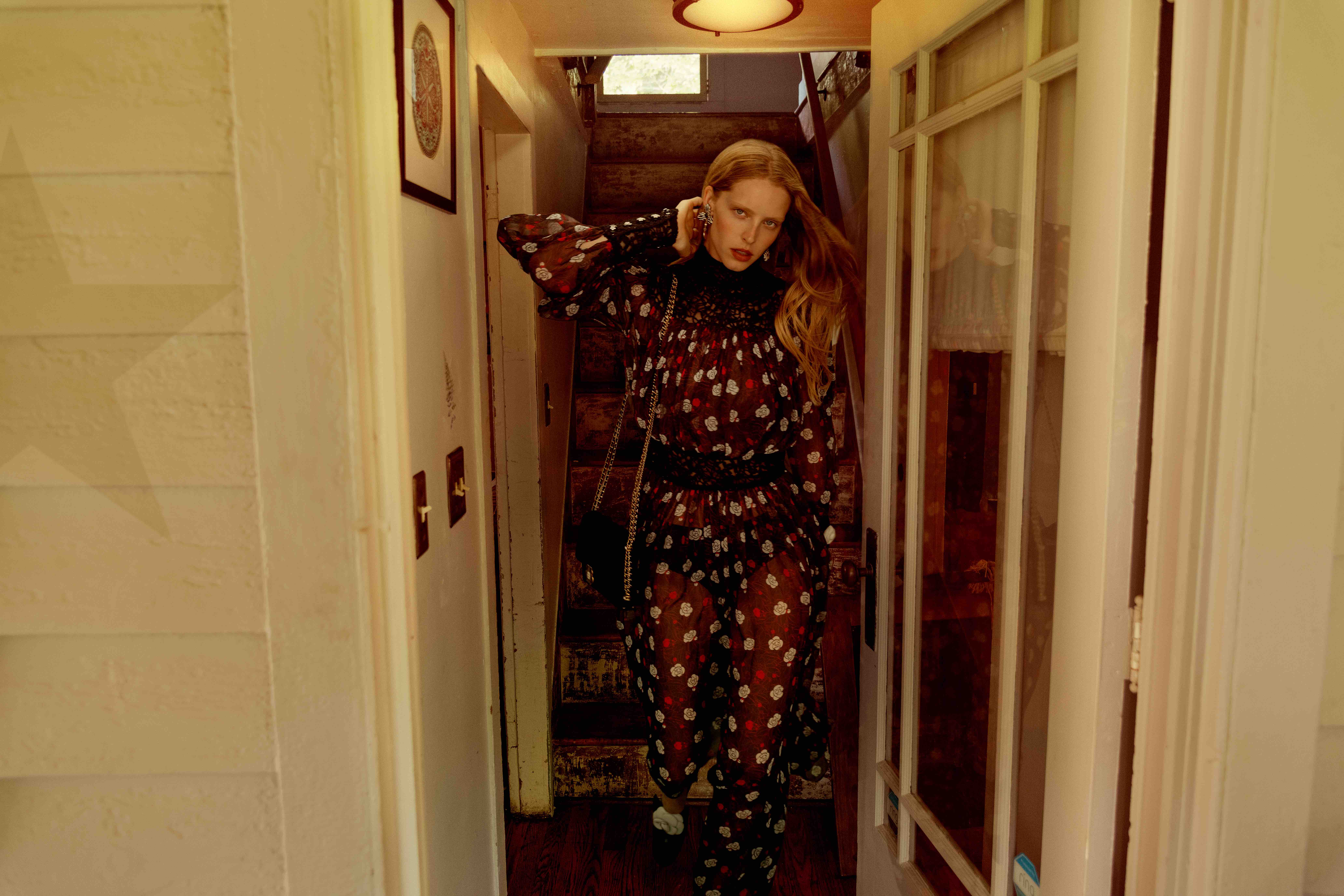 The portrait of a woman artist takes shape. The masculine codes of peak lapels, floral coats like a dandy's dressing gown, and men's jacket, the kind you might take out on the early hours of the morning, all contribute to the bohemian spirit that drives her. Sentiments that also understand how to be gentle and romantic.
Taking a closer look at the white lace tights, one notices light embroideries that add a touch of lightness to any look; wool sweaters feature voluminous appliqués that appear like modern polka dots, giving movement and vitality to the garment. Tweed, Chanel's eternal symbol, returns to the runway revisited with small embroideries that to the naked eye seem to be an integral part of the fabric.