The idea of Eternal Gold stems from the desire to create unique and eternal objects that resist the generational transition and the passage of time. Along with traditional craftsmanship techniques, Prada incorporates sustainable procedures into the design. The concept of sustainability becomes essential in the presentation and development of the idea, and reflects how actively the Prada group is always committed to clear, conscious and responsible practices. The entirety of the gold used is certified as recycled, derived from industrial availability and post-consumer precious objects. The suppliers with whom the brand has decided to collaborate meet the highest industry standards in regard to respect for human rights, occupational safety, environmental impact and business ethics, key concepts of a fully sustainable product. Also inaugurated as part of the project is the  Aura Consortium Blockchain platform that allows the customer to have visibility into every stage of each diamond's life, starting from extraction, through cutting, to setting and polishing. To date, traceability is intended only for diamonds with stones of 0.5 carat and above. Transparency of the work is thus radical, allowing the jewelry line to take on a modern awareness that can keep up with the rapid changes in society.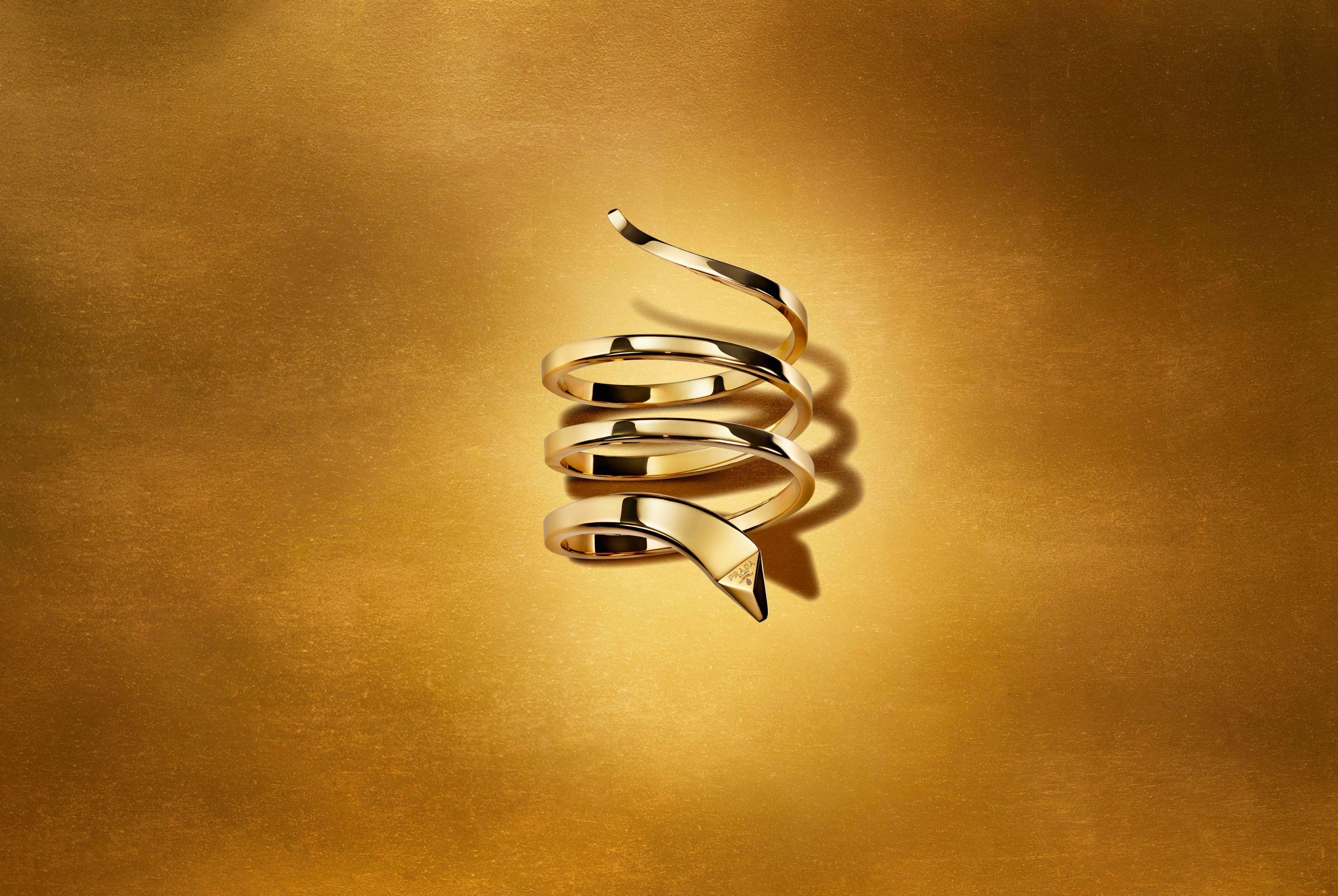 In Prada's DNA, the commitment shown in the search for unique materials and unmatched levels of craftsmanship is evident; Eternal Gold is the latest representation of this methodology, the development of a timeless tradition intrinsic to modern values. Elements of the collection take up neoclassical and timeless items: snake bracelets, heart motifs, chain necklaces and ribbon chockers. Gold is also an eternal, everlasting material. At the center is the iconic Prada triangle, a characteristic and completely recognizable shape, a true representation of the brand, a universal concept; here it is reproposed in clasps, pendants, earrings, and dismembered in the corners that go to create chain links, recurring hearts or snake heads. The proportions are meant to reflect the idea of strength and passion. It's about heirlooms handed down as tokens of affection and love, as a continuous exchange between the past and the future. An avant-garde reconsideration of the art of jewelry itself that challenges traditions and goes beyond all kinds of conventions. Technology and concern for planet and humanity come together in a responsible practice.
For more information visit prada.com.